Podcast: Play in new window | Download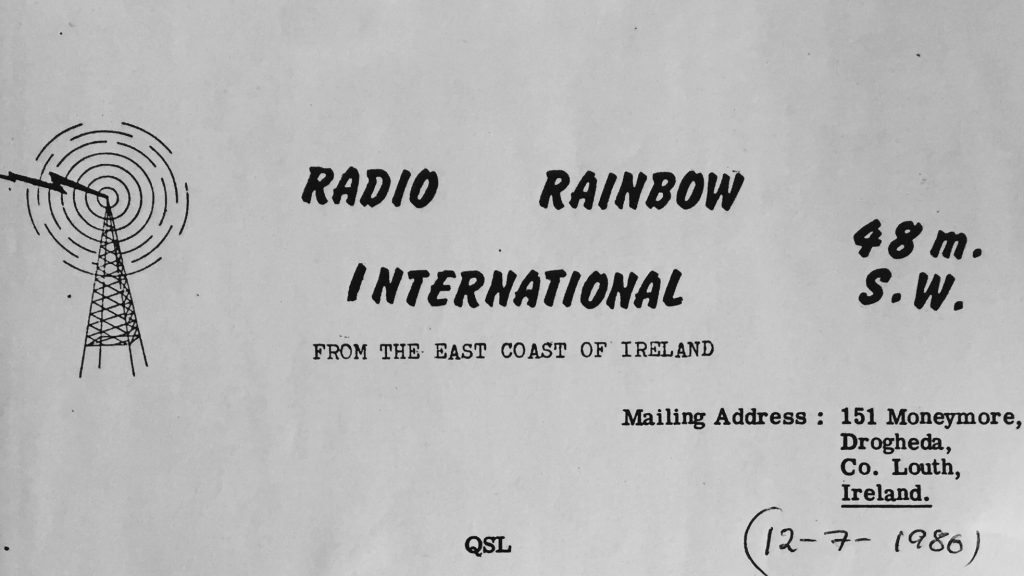 Radio Rainbow International was a high-powered shortwave pirate broadcasting on Sundays from Co. Louth between the summer of 1985 and the end of 1988. It was operated by Boyneside Radio DJ and engineer Eddie Caffrey and several other Boyneside presenters were also involved. In an interview with Pirate.ie, one such DJ, Kieran Murray, described Radio Rainbow as the 'Radio Nova of shortwave', such was its high power output in contrast with other Irish shortwave pirates of the era. Using the tagline 'broadcasting from the east coast of Ireland', Radio Rainbow put out about 1 kW of power on 6240 kHz in the 48-metre band. The station received reception reports from all over Europe during its three years on air.

This is a studio recording of the first broadcast of Radio Rainbow International on Sunday 28th July 1985. The DJ is Jim Agnew on his first shortwave broadcast. There are no times and the tape is airchecked. It was made by Kieran Murray and is from the Anoraks Ireland Tapes Collection, donated by Paul Davidson.