Podcast: Play in new window | Download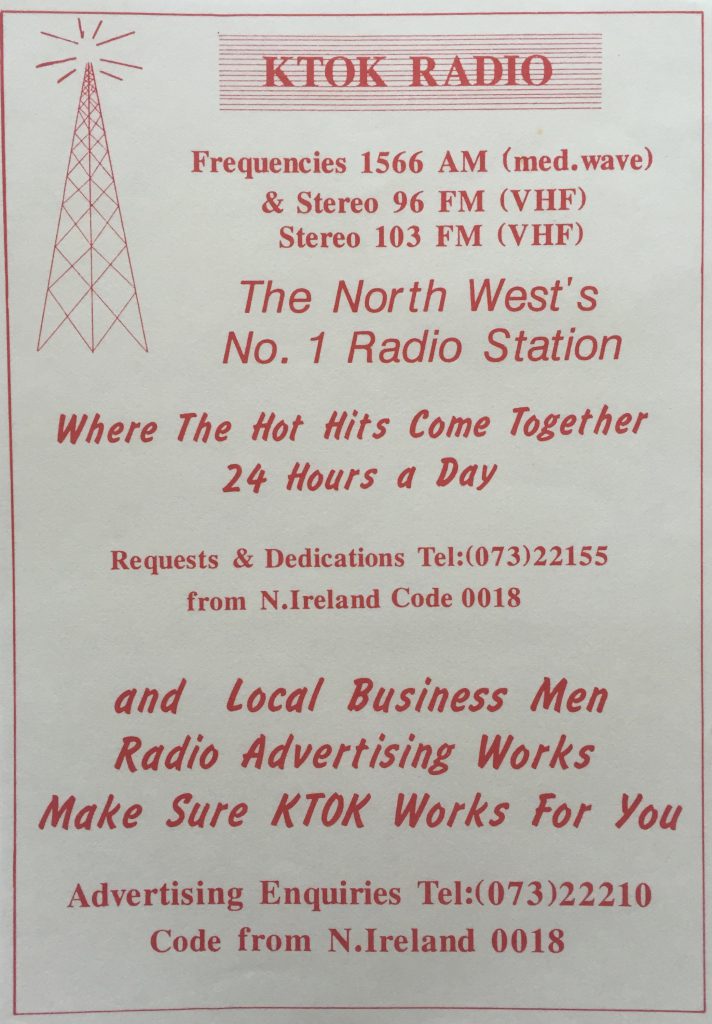 KTOK was one of a number of pirates broadcasting to Co. Donegal in the 1980s and located in the Castle Centre in Donegal Town. It was set up by Russ Padmore, former manager of North West Community Radio in Buncrana. He had also worked previously with ABC Radio in Waterford and indeed it was thanks to Italian transmitters imported by ABC that KTOK got on air. The pop music format proved popular in an area where Irish and country music was common on radio.
KTOK was first noted in the Anoraks UK Weekly Report on 24th May 1987 on 1566 kHz with a relay of RTÉ Radio 2. On 19th July Weekly Report said that the station had been picked up as far south as Sligo Town and according to DX Archive, the signal was also heard in the UK. Ex-Radio Caroline DJ Dave James was said to be among those involved. An Anoraks Ireland list from July 1987 listed KTOK on 1566 kHz and on 96, 98 and 103 FM. The station continued until 31st December 1988 at 4pm when it was closed down by Russ Padmore.
This recording was made from 95.9 FM on 26th August 1988 from 1847-1934 and features Russ Padmore followed by Laura Live. Thanks to John Breslin for the donation.