Podcast: Play in new window | Download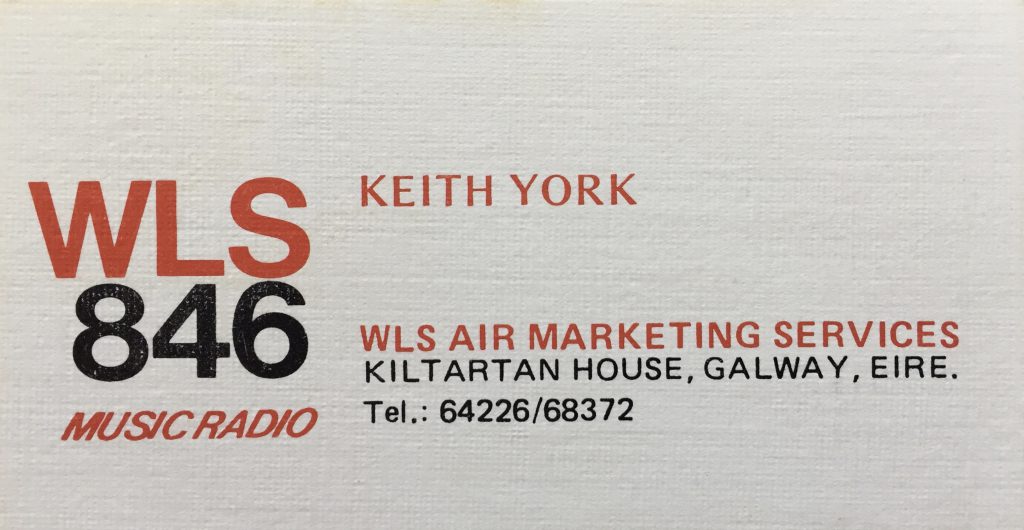 WLS Music Radio was a commercial pirate station broadcasting from Galway City from March 1985 to June 1987. It was set up by former offshore DJs Keith York (RIP) and Don Stevens who moved from South Coast Radio in Cork after it closed down in the summer of 1984. They joined existing Galway station Atlantic Sound and were later followed by fellow ex-offshore DJ Steve Marshall. The three took over Atlantic Sound and changed its format to chart music and giveaways, but by St. Patrick's Day 1985 had set up WLS from across the road on Forster Street in the city centre. WLS was supposed to stand for the clumsy 'West Local Station' but was in fact based on a jingle package from a longstanding Chicago station of the same name that continues to broadcast today.
WLS broadcast on 846 kHz AM and initially 104 FM and later added shortwave on 6240 kHz. WLS switched to 102.7 in May 1985 in advance of a court case involving RTÉ. The national broadcaster alleged that WLS was interfering with television reception in Galway and had taken advertising revenue. When it moved to new premises on Prospect Hill in December 1986, WLS was praised for its high technical standards by Anoraks UK, who described it as on a par with licensed local stations in Britain. A station newsletter from late 1986/early 1987 (see below) said that its AM signal was designed to cover south Co. Galway and north Co. Clare both day and night, while its 'superior FM stereo signal' was aimed at the city. It also claimed to be the first pirate to broadcast in stereo to Galway.
WLS went off the air in mysterious circumstances around June 15th 1987. The City Tribune of 3rd July reported that the station had been off the air for the previous two weeks and its offices at Prospect Hill deserted. Equipment had been removed, the lock broken and the door left open. Attempts to contact manager Don Stevens were unsuccessful and he had vacated his rented accommodation in the city. An edition of the Radio West Anoraks' Show in July 1987 reported that WLS had gone off the air after an irate investor dismantled equipment because he was unhappy with his return. In the same month, Steve Marshall and Keith York set up another successful Galway station, Coast 103, which broadcast until the end of 1988.
This recording of WLS was made on 23rd and 24th July 1985 and comprises airchecks of various programmes. The voice of Steve Marshall is heard on adverts for businesses in Galway and Castlebar. There are also agency adverts for larger national companies, a sign of the relative success of WLS just a few months after it started broadcasting. Presenters on the tape include Sarah Miles, Richie O'Shea and Brian Walsh. The 8am news is read by David Pollard and there's also a promo for a Live Aid benefit concert to be held in Galway.
The recording was made from 101 FM in stereo and is from the Anoraks Ireland Tapes Collection, donated to us by Paul Davidson.