Podcast: Play in new window | Download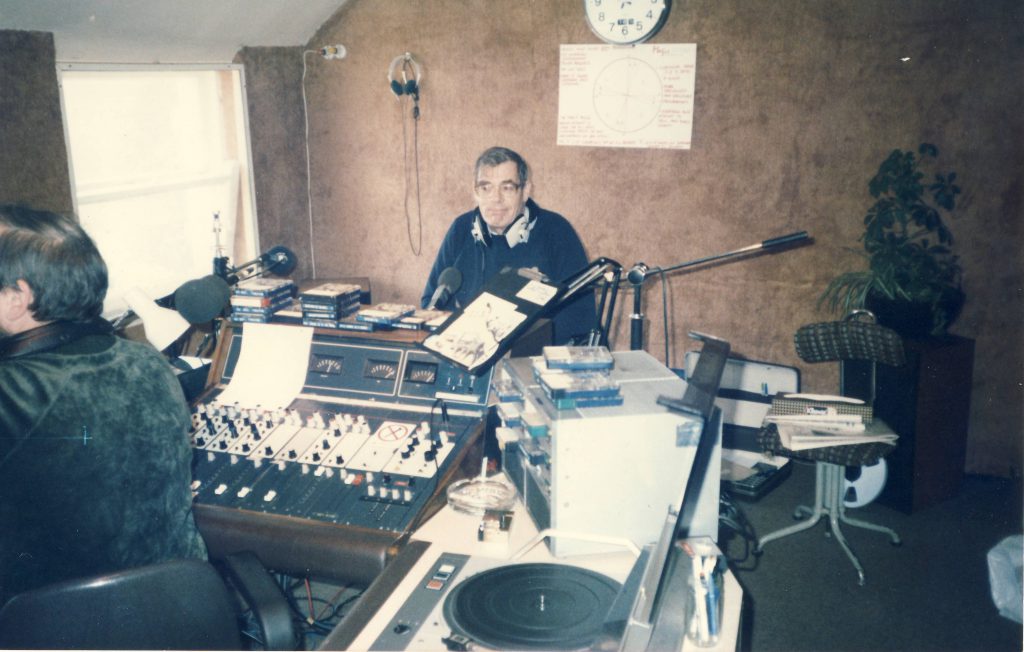 Magic 103 (103.5 FM and 1521 kHz although AM was never announced on air) was set up by Radio Nova in 1985 and was one of many examples of Chris Cary's innovation in splitting AM/FM services to expand programming. Magic was a mostly easy-listening and talk service in contrast to the chart music format of Nova. Its first full day on air was April 29th 1985.

'ABC Network News' was broadcast on both Nova and Magic, and the journalists also presented programmes on Magic. These recordings of the opening day begin with the segment above from 0900 with the shared news bulletin, followed by the first hour with Dave Harvey who describes Magic as the 'new chat and information station for Dublin'. He invites listeners to call in and give their opinions on joyriders but the callers are often off topic and some of the conversations sound staged. There's a news bulletin on the half-hour and a round-up of British news, strange for a station that was aimed at Dublin.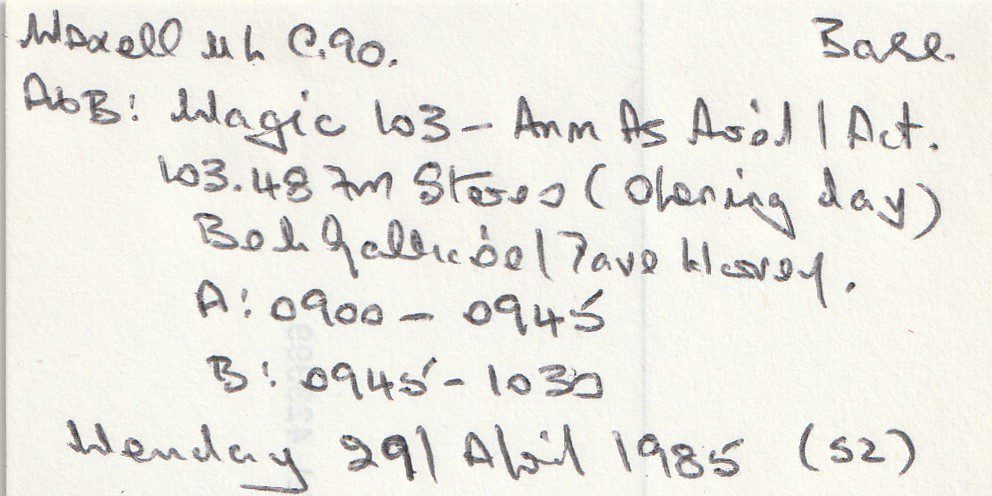 Part 2 below runs from 0945 and includes news with Bob Gallico (RIP) and then Bob's own show, 'Morning Magic' from 1000. He promises chat, easy listening music, racing news, recipes, features, film scores and news about events around town. The first two segments are from the Anoraks Ireland Tapes Collection, donated to us by Paul Davidson.
Part 3 below is of the evening programme with Shane Mac Gabhann from 1823-1909. Listeners from around town send in their good wishes but one caller describes the musical selection as 'ancient' and wants more Lionel Ritchie. The main evening ABC Network News is read by Bernie Jameson and Mark Weller. Shane Mac Gabhann is now a newsreader on RTÉ, Mark Weller (Costigan) would become political correspondent on licensed national commercial station Today FM and Bernie Jameson continues to read news today. This recording is from the Skywave Tapes Collection and there is some breakthrough in the background, due either to a problem with recording or deterioration of the cassette.
The final snippet is an undated airchecked recording of an evening show in the first few days of the station. Dave Johnson (aka Andrew Hanlon, later head of news at independent station TV3) is both presenter and newscaster. A listener in Co. Down says Magic is coming in 'crystal clear', evidence of how far the FM signal travelled on a relatively uncrowded band. Sound quality is variable on this recording (it may have been recorded from AM), which is from the Pirate.ie collection.
Magic 103 was short-lived and closed at the end of September 1985, citing financial difficulties. Its closure led to the worsening of a bitter dispute between the National Union of Journalists and Radio Nova that contributed to the main station's demise in 1986.