Podcast: Play in new window | Download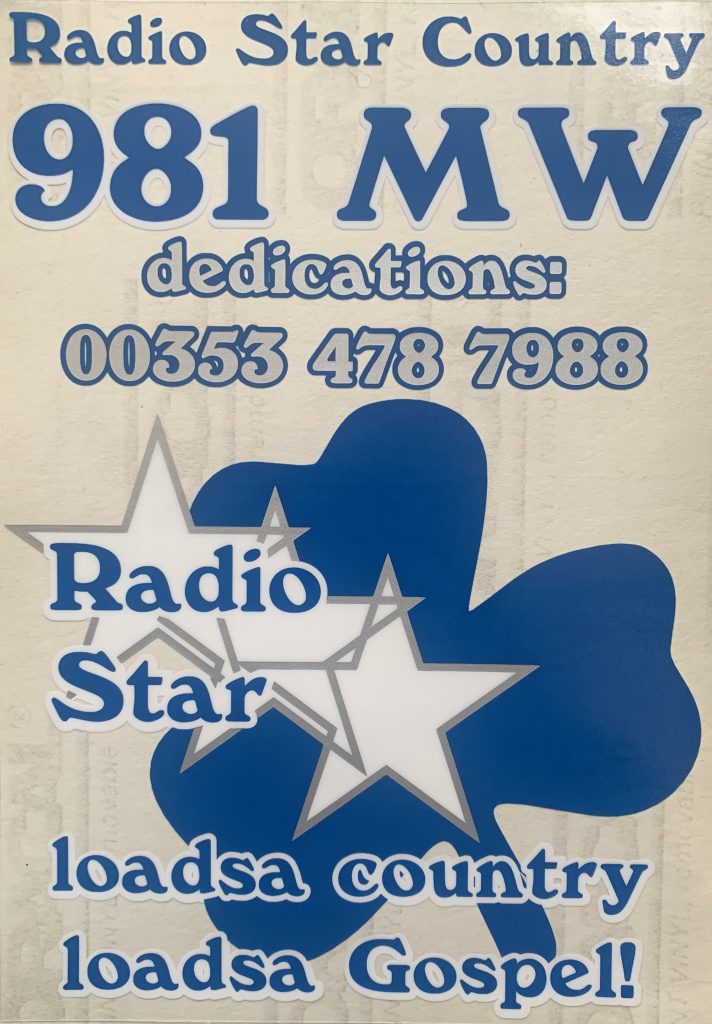 Radio Star Country marked 20 years on air in 2008 and continued to broadcast in defiance of the strict broadcasting legislation in the Republic of Ireland. Many pirate stations around the country had been raided or chose to apply for licences but the Monaghan station defied the odds and stuck to its winning formula of country and gospel music aimed mostly at a Northern audience. This recording from the run-up to Christmas 2010 gives a good sense of the station as it entered its third decade on air. On air is 'The Cowboy' who reads out seemingly endless requests from listeners across a wide area stretching from the border to Belfast and Ballymena and even Stranraer in Scotland. Christmas songs, often with religious themes, are added to the usual country and gospel mix. The adverts are from Northern counties only in contrast to earlier recordings of Radio Star Country, perhaps reflecting a clampdown on businesses in the Republic advertising on pirate radio. Promos inviting businesses to advertise for the Christmas period refer to the recession that was in full swing at the time. Hourly news is from the Sky News Centre in Britain and the Cowboy is followed by Jenny B with her drivetime show.
This tape was made from 981 kHz from 1233-1640 on 14th December 2010, 22 years after Radio Star Country began broadcasting. It was recorded in Blackpool in England and reception deteriorates as darkness falls, with some fading and increasing co-channel interference. The recording is courtesy of DX Archive.