Podcast: Play in new window | Download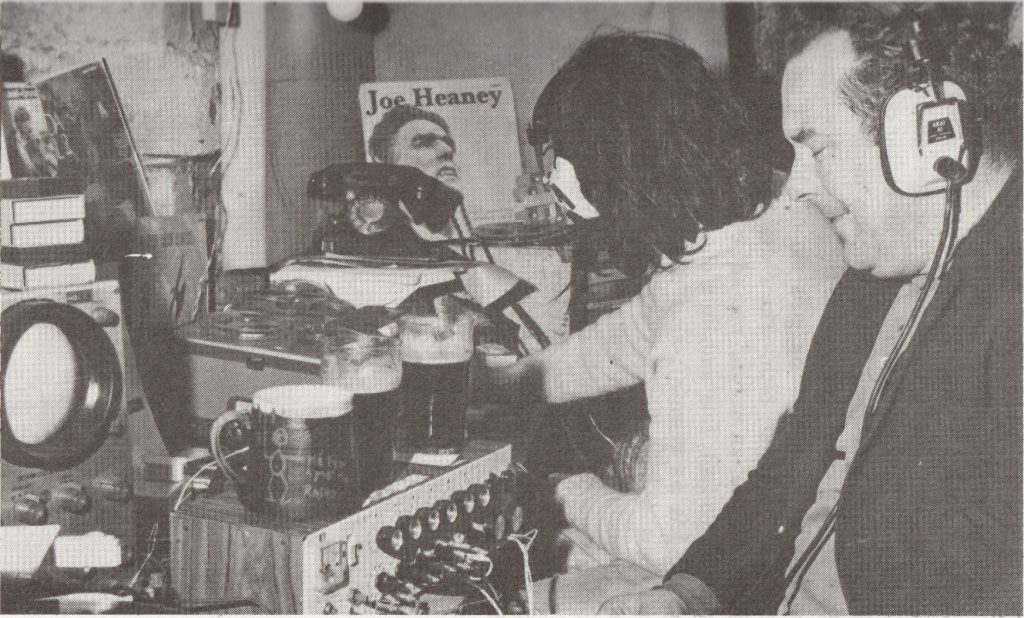 At Easter 1970, Irish language pirate Saor-Raidio Chonamara (Free Radio Connemara) came on the air for the first time in Ros Muc in the Connemara Gaeltacht. Inspired by Radio Free Derry set up at the outbreak of the Troubles in 1969, a local radio service for the Gaeltacht was one of the demands of the Gaeltacht Civil Rights Campaign. One of those involved, Seosamh Ó Cuaig, wrote in the Connacht Tribune on 17th October 1969 that an all-Irish pirate station would be set up and that a transmitter could be bought for £50. With the assistance of an engineering student from UCC, Micheál Ó hÉalaithe, Saor-Raidió Chonamara began broadcasting on 1484 kHz (202 metres) on Saturday 28th March from a caravan in Ros Muc and stayed on the air until Sunday 5th April. It returned again in November that year for the Oireachtas na nGael festival, also held in Ros Muc.
Faoi Cháisc 1970, chuaigh an stáisiún bradach Saor-Raidió Chonamara ar an aer den chéad uair ó Ros Muc i nGaeltacht Chonamara. Spreagtha ag Radio Free Derry a bunaíodh ag tús na dTrioblóidí, bhí stáisiún raidió Gaeilge ar cheann d'éilimh Ghluaiseacht Chearta Sibhialta na Gaeltachta. Ina alt ar an Connacht Tribune ar 17 Deireadh Fómhair 1979, scríobh duine de na daoine a bhí páirteach, Seosamh Ó Cuaig, go mbunófaí a leithéid de stáisiún agus nach gcosnódh tarchuradóir ach £50. Le cúnamh ó mhac léinn innealtóireachta ó Chorcaigh, Micheál Ó hÉalaithe, thosaigh Saor-Raidió Chonamara ag craoladh ar 1484 kHz (202 méadar) Dé Sathairn 28 Márta ó charabhán i Ros Muc agus d'fhan ar an aer go dtí an Domhnach 5 Aibreán. Chraol sé den dara uair faoi Shamhain na bliana sin mar chuid d'Oireachtas na nGael i Ros Muc.
Saor-Raidió Chonamara led within two years to the establishment of Raidió na Gaeltachta under the auspices of RTÉ. It began broadcasting on Easter Sunday, 2nd April 1972. Many campaigners doubted RTÉ's commitment to Irish and had wanted Raidió na Gaeltachta to be under community control but the new station quickly gained listeners in the Irish-speaking areas. Initially only available on part-time and on AM in each of the three main Gaeltacht areas (west Kerry, south Connemara and northwest Donegal), Raidió na Gaeltachta was extended nationwide on FM in 1973. It is now a full-time, national Irish language station.
Laistigh de dhá bhliain ó chraoltaí an tSaor-Raidió, bunaíodh Raidió na Gaeltachta faoi choimirce RTÉ ar Dhomhnach Cásca, 2 Aibreán 1972. Bhí amhras ar lucht an fheachtais faoi thacaíocht RTÉ don Ghaeilge agus theastaigh uathu an stáisiún a bheith faoi smacht an phobail ach níorbh fhada go raibh éisteacht mhaith ag an stáisiún nua sa Ghaeltacht. Ar fáil go páirtaimseartha agus ar an meántonn amháin i dtosach báire i gConamara, Corca Dhuibhne agus Tír Chonaill, leathnaíodh Raidió na Gaeltachta go náisiúnta ar an ardmhinicíocht in 1973. Is é an stáisiún lánaimseartha, náisiúnta Gaeilge anois é.
In 2020, RTÉ Raidió na Gaeltachta planned a commemoration of the 50th anniversary of Saor-Raidió Chonamara but this was cancelled due to the outbreak of the pandemic. The station broadcast special programmes from Ros Muc on Easter Monday, 28th April 2022, including interviews with those involved in Saor-Raidió Chonamara.
This short clip is of Piaras Ó Gaora from Easter Sunday, 29th March 1970 and translates as: 'You are listening to Saor-Raidió Chonamara broadcasting on 202 metres medium wave and at two minutes past six on this glorious Easter evening, it's time for the news'. The clip is from the television documentary Splanc Dheireadh na Gaeltachta (2005, subtitled). Other historical material about the history of Saor-Raidió Chonamara is available on the Irish language website Cartlann Ghaeltacht Chonamara (Connemara Gaeltacht Archive), hosted by NUI Galway.