Podcast: Play in new window | Download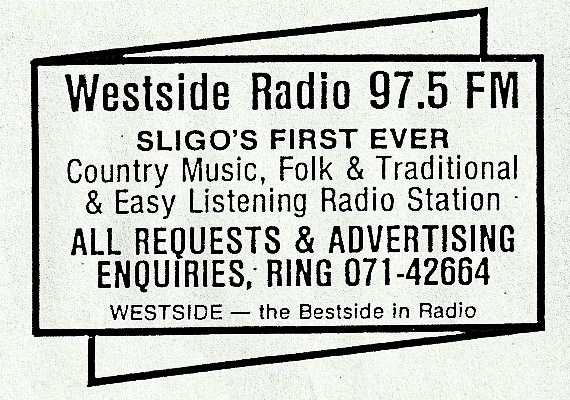 Westside Radio began broadcasting from Sligo on 97.5 MHz FM on 15th November 1986, playing mostly country and western music. The Weekly Report of Anoraks UK on 7th December reported that the audio was quite loud and sometimes distorted. An advert in Weekly Report in February 1987 (pictured) claimed that Westside was Sligo's 'first ever country music, folk and traditional and easy listening radio station'. Subsequent reports by Anoraks UK referred to plenty of requests and adverts, so the format appeared to be working locally. By April 1987, the station had changed its name to Westside Community Radio.
In February 1987, a West Coast Radio from Sligo was reported to be testing on 1143 kHz AM and 103.5 FM. This was a shortlived station but there must have been confusion between the similar names when both were on air.
This recording of Westside Radio was made from 97.6 FM from 2028-2202 (part 2 below) on 29th August 1988 and features a chart music show with Des McAleer who adds 'Power 97.5 FM' to the station ID. Clearly Westside had moved beyond its original easy listening format by this late stage in its existence, at least in its evening shows. The station was listed in an Anoraks UK log on 5th July 1988 and Power 97 is mentioned in a report from Sligo on 24th September, suggesting that it may have changed its name by that time. We thank John Breslin for this donation.