Podcast: Play in new window | Download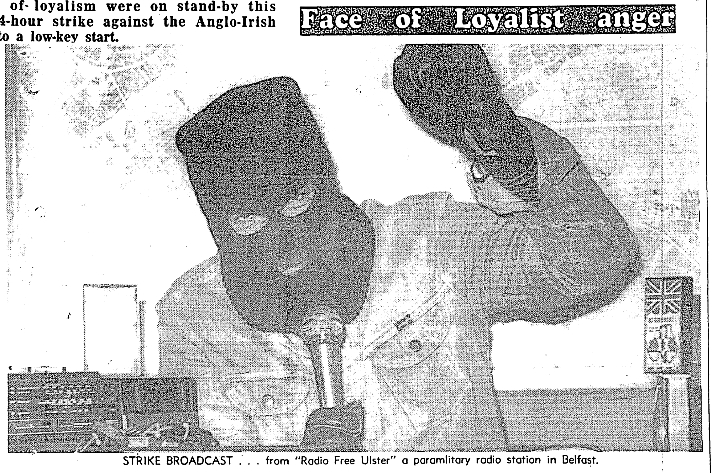 Radio Free Ulster was a paramilitary pirate station operated during the Loyalist general strike called for Monday March 3rd 1986. The strike was in opposition to the signing of the Anglo-Irish Agreement. The station carried out test transmissions from above an illegal drinking den between Woodvale and the Shankill Road in West Belfast on Sunday March 2nd on 101 MHz FM. Radio Free Ulster broadcast throughout Monday and Tuesday afternoon before the transmitter was turned off.
The Irish government was aware of the broadcasts, which occurred at a time of high tension in Northern Ireland. The broadcasts attracted national and international attention and a chilling photo of Radio Free Ulster was featured on the front page of The Irish Press and in The Schenectady Gazette, a newspaper in upstate New York. The station was also covered in The Belfast Telegraph.
This recording is of a test broadcast and is presumably from Sunday March 2nd. Audio quality is terrible with a faint voice breaking through the crackle and hum and eventually announcing Radio Free Ulster. Loyalist marching band music is heard in the background. Thanks to Paul Buckle for the recording and to Eddie Bohan for background information and the image. For more information about stations run by paramilitary groups during the early days of the Troubles, listen here to a podcast featuring Eddie Bohan.