Podcast: Play in new window | Download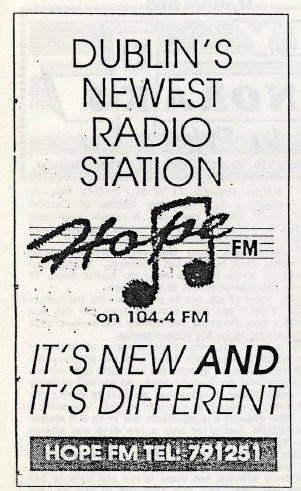 Hope FM was a nominally religious station that broadcast to Dublin for the last few months of the pirate era at the end of 1988. It launched on Monday 12th September 1988 on 104.2 FM and soon moved to 104.4.
Hope FM came about when its owners bought another station CAU FM that had broadcast from November 1987 until July 1988, aiming mostly at the southside of the city. Some of the DJs on CAU FM were also heard on Hope FM and the same equipment was used. Using the strapline 'the newest voice of Dublin', the AOR music format was interspersed with various short reflections about life, although not overtly religious.
This recording was made on Monday 21st November and is an aircheck of morning and evening programming. It begins with Greg Edwards (aka Locky Butler, former owner of CAU FM and previous southside stations) on breakfast from before 9am and includes a competition, adverts and a promo for a daily job spot. The drivetime show from about 5.30pm is presented by an unidentified DJ and includes traffic news sponsored by a taxi company and a Christmas children's toy appeal. News is read on the half-hour.

This recording was made originally by Kieran Murray and is from the Anoraks Ireland Tapes Collection, donated by Paul Davidson.