Podcast: Play in new window | Download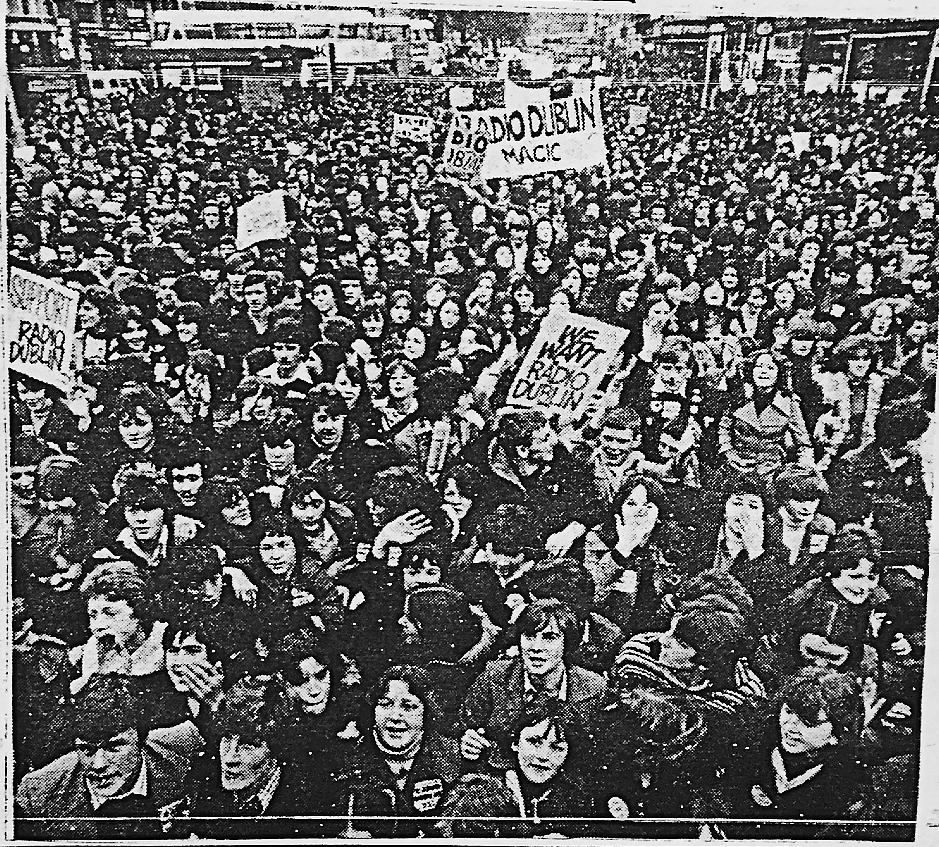 Back when pirate stations were part-time hobbyists, Radio Dublin broke the mould on the 17th and 18th September 1977 when it broadcast non-stop for 36 hours. This was a key period in the development of the pirates as stations went full-time for the first time, with Radio Dublin pioneering round the clock broadcasting.
Over the Christmas and New Year period 1977/78, Radio Dublin broadcast continuously for 300 hours. According to Sounds Alternative magazine edited by Kieran Murray, it was the only station in Ireland to ring in the New Year, with the Lord Mayor of Dublin doing the honours. On Monday 2nd January 1978, the station announced that it would begin full-time daily broadcasting and unveiled a new schedule of DJs including Gerry Campbell, James Dillon, Sylvie, Mike Eastwood, Shay West, Dennis Murray and John Clarke.
This recording is of the last 40 minutes of Radio Dublin's festive marathon from 0020-0100 on 2nd January. The presenter is unidentified but the voice of Shay West is heard with a message in basic French asking an overseas listener to phone home. The broadcast is closed by Radio Dublin's owner Eamonn Cooke who announces that full-time programming will start later that morning at 8am. This recording was made in Leeds by Gary Hogg, so is very much DX reception, but it is an important piece of history as it marked the start of a new era in Irish radio history. Thanks to Ian Biggar for sharing it with us.

The non-stop broadcasts attracted the attention of the authorities, and Radio Dublin was raided early on 17th January, only to return to the airwaves by midnight. On 21st January, a march in support of Radio Dublin was held in the city centre, attracting between 8,000-10,000 people, according to Sounds Alternative. The station's aerial was cut down by the Department of Posts and Telegraphs on 24th January but returned within a few weeks. Radio Dublin closed down permanently in 2002 following the conviction of Eamonn Cooke for sexually abusing children. He was jailed in 2003 and again in 2007 and died in 2016 while on temporary release. If you require support with this issue, you can contact the organisation One in Four.