Podcast: Play in new window | Download
Radio Annabel began broadcasting in September 1983 and soon became the new home for Gerard Roe's popular Free Radio Campaign (FRC) show. Facilities and coverage were better than at Radio Dublin Channel 2 and the FRC moved to a Sunday afternoon slot. In this recording from summer 1984, Gerard begins with a recap of news from the same week the previous year, which included the renowned £6,000 giveaway by Radio Nova. There's also a recording of Andromeda Independent Radio from Manchester and a feature about the use of pirate radio for political reasons. Radio Sinn Féin is reported to be on air in advance of the European elections and Gerard notes previous radio activity by Republicans, including disruption to existing pirates. The show also covers the 20th anniversary of Manx Radio.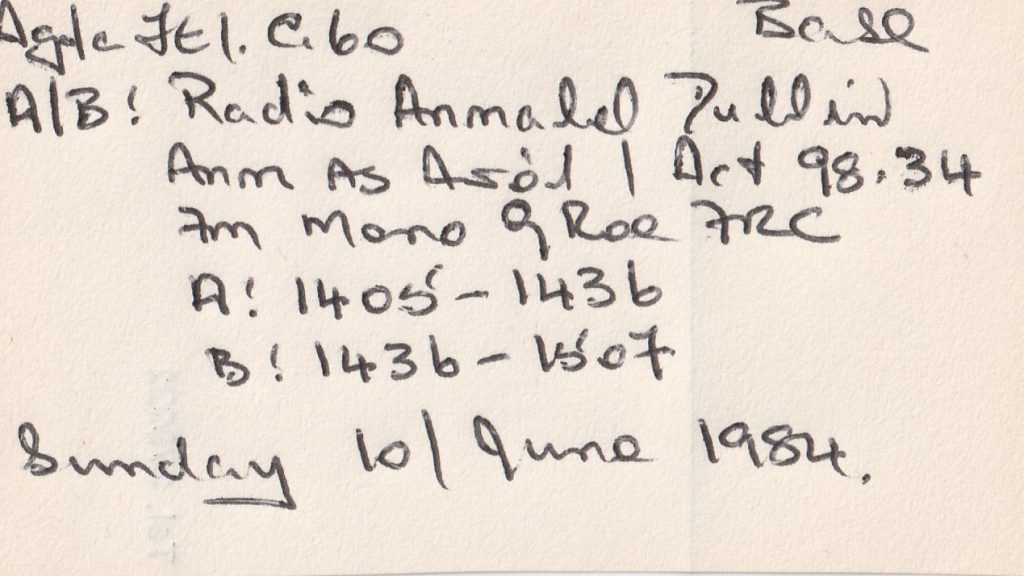 Our recording was made from 98.3 FM from 1405-1507 on Sunday, 10th June 1984. It is from the Anoraks Ireland Tapes Collection, donated to us by Paul Davidson. Listen here to Pirate.ie Podcast #10 featuring our interview with Gerard Roe about his memories of pirate radio, including the move from Radio Dublin to Radio Annabel.