Podcast: Play in new window | Download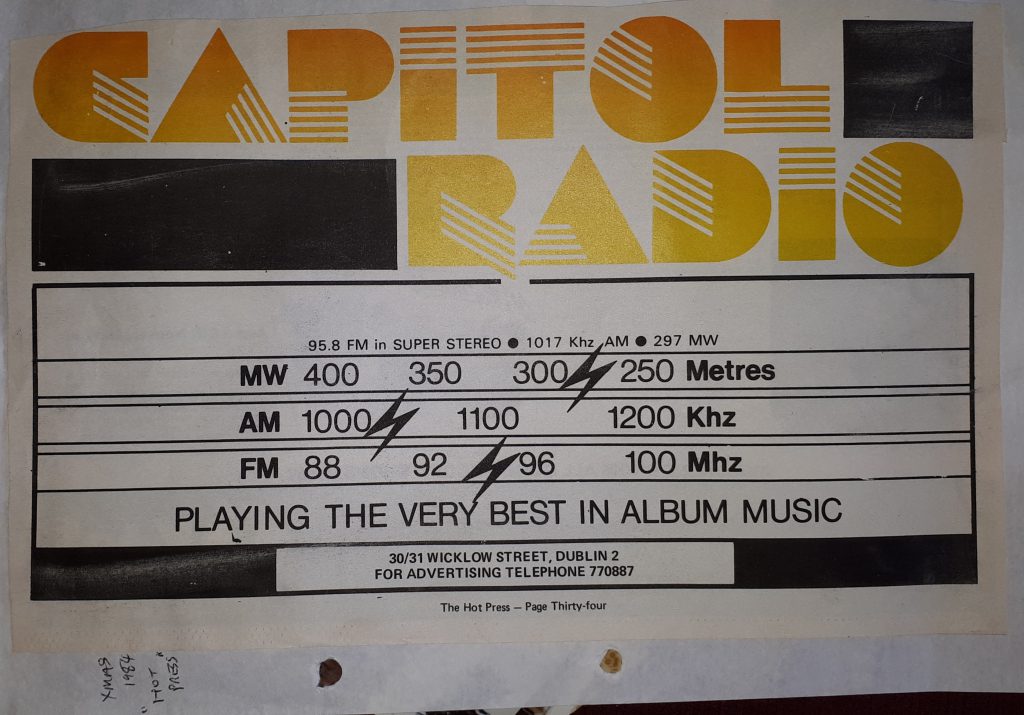 As discussed here before Dublin had many pirates calling themselves Capital or Capitol Radio. This recording from 1983 is from the early days of the final incarnation, the Capitol Radio which started the evening service Nitesky 96 in 1986 and ended up specialising in indie and alternative music.
In July 1983, the Anoraks UK Weekly Report announced that ABC Radio had left 1017 kHz, paving the way for Capitol to take over that frequency. DJ Martin Cullinane (aka Bob Conway) announces 1017 kHz (297 metres) and 96.1 FM and makes several references to Capitol being a new station. Capitol didn't specialise in the hits, experimenting with 'album music' before moving into the indie realm, but the choice here is a little confused with three in a row from Wham mixed in with early U2 and other more alternative sounds. The recording was made from 1855-1940 on the 27th of August 1983 and although taken from FM, sound quality is poor in places. You can hear other recordings of Capitol here.
This recording is from the Skywave Tapes Collection. Skywave Radio International broadcast a shortwave station in the 1980s from Baldoyle in northeast Dublin.