Podcast: Play in new window | Download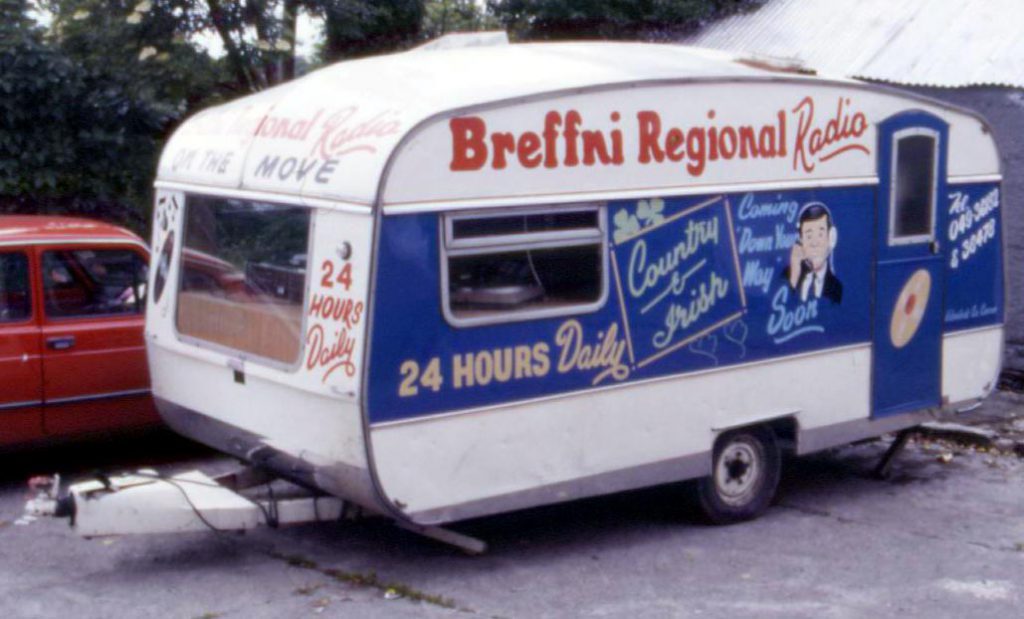 Breffni Radio was a popular station broadcasting from Cavan from 1984 to 1988 with a number of regional offshoots. This edited station history is based on information kindly provided by Seán Brady.
Breffni Radio began broadcasting in December 1984 from a converted cottage at Drumloman near Kilnaleck in Co. Cavan. 'Breffni' is based on the Irish word Bréifne, a medieval Gaelic kingdom in north Leinster and north Connacht. The cottage consisted of one an on-air studio, an extensive record library and a production studio. The technical gear was basic, but served its purpose very well. Breffni broadcast a mix of Irish and American country music, from 7am to 1am. Engineer Gerry Reilly looked after the technical side of Breffni Radio and set up its transmission facilities. For many years the station broadcast with 1 kW output of power on 1170 kHz. In 1985, Breffni experimented with FM and planned to expand into the midlands with a service in Longford.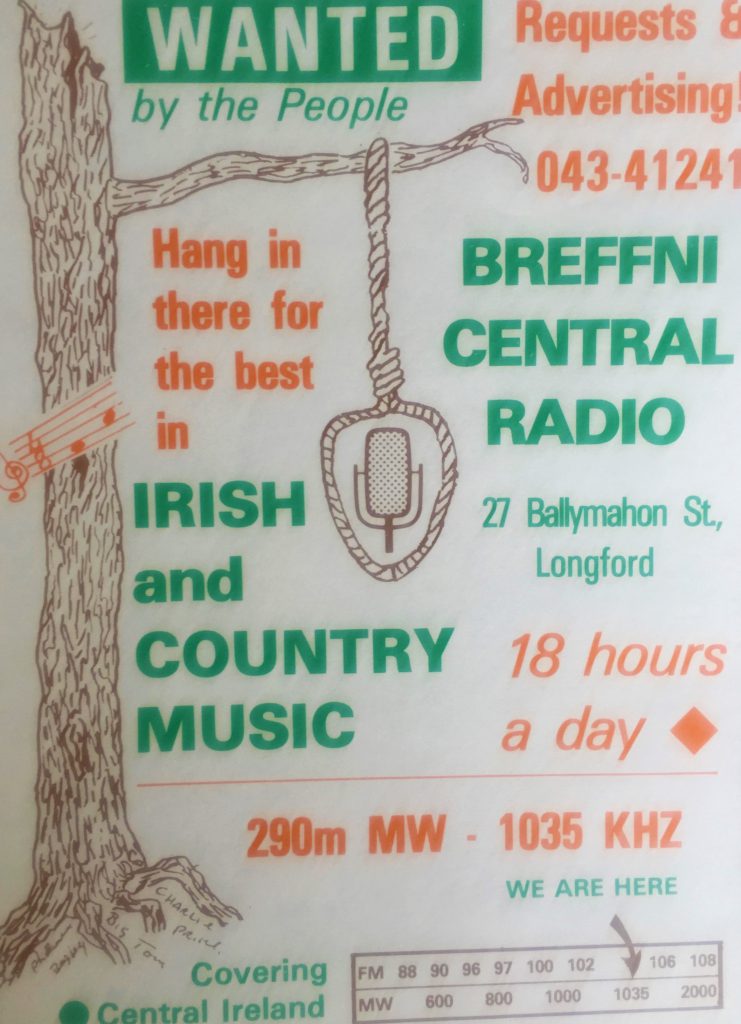 Breffni Central Radio took to the air on 10th June 1985 from Ballymahon Street in Longford on 1035 kHz. This new service was intended for reception in counties Longford, Roscommon, Galway and Mayo. The signal was in fact heard over a very wide area, extending from Galway to Cavan. Breffni Central Radio, like its sister station in Kilnaleck, broadcast a mix of Irish and American country music from 7am to 1am. An FM service was introduced on 17th February 1986 from a site on Arkill Mountain near the studio. On 10th March, Breffni introduced split programming, 1170 kHz carrying the usual Irish and American country music fare, with 96.6MHz broadcasting the pop music of Channel 2. Reception was excellent with the station being received as far away as Kildare but Channel 2 was shortlived due to poor demand from listeners. The FM transmitter was later increased to 1kW and covered a wide area.
Reflecting its music policy, Breffni held a number of successful country music awards. In 1986 alone there were two such galas featuring 20 Irish country music artists. There were also successful outside broadcasts from the Oldcastle Agricultural Show in Co. Meath.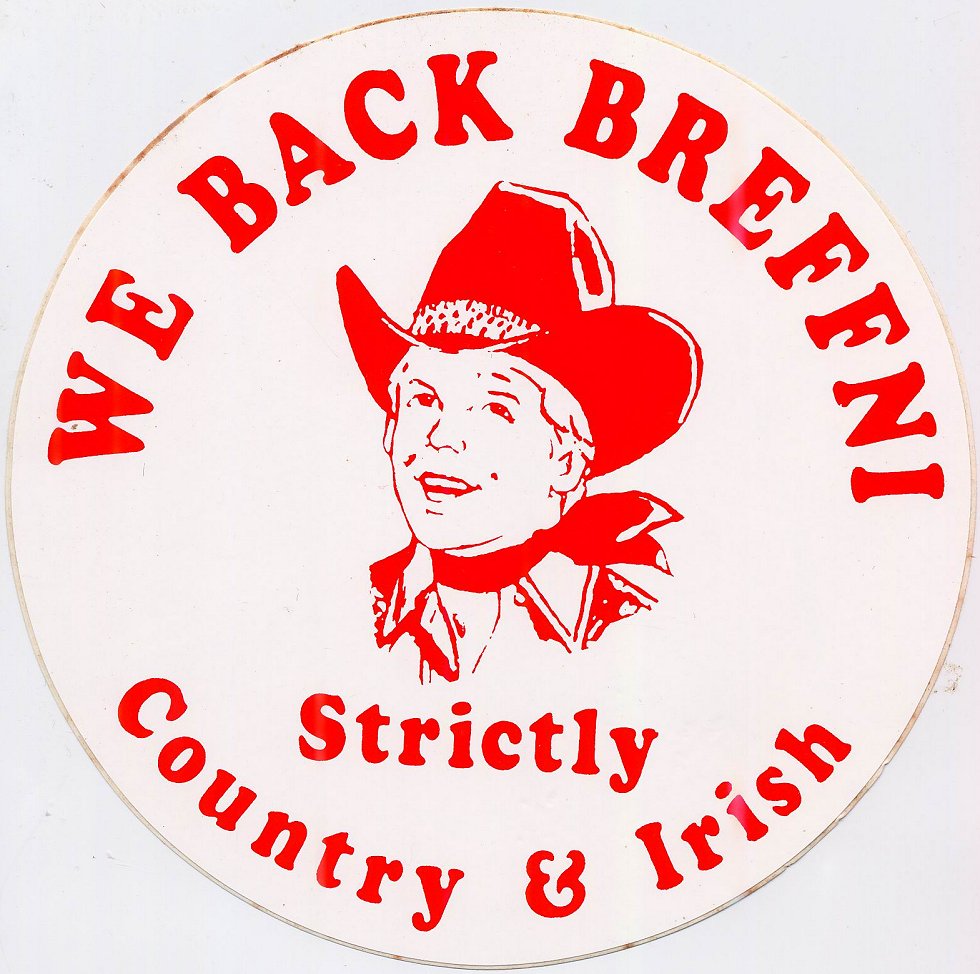 In 1987, Breffni purchased a 5 kW AM transmitter from the US but sold it on to another local operator, believed to be KISS FM in Monaghan. Following ongoing coverage problems with 1170 kHz, in March 1988, Breffni moved to 657 kHz giving it stronger local coverage. Bray Local Broadcasting in Co. Wicklow made an official complaint as it was broadcasting on the same frequency. In June 1988 a sister station of Breffni, Galtee Radio, took to the airwaves in Limerick and broadcast the same diet of Irish and American country music. As a result of new broadcasting legislation, Breffni went off the air at midnight on 30th December 1988. The station applied unsuccessfully for a licence and returned for three weeks in November 1989 before being raided.
This recording was made from 95.6 FM from 1457-1544 on 27th December 1988, a few days before closedown. Gerry Boylan is on air and there are plenty of requests and advertising. Many of the ads are voiced by Seán Brady. FM reception is fair with some fading and it appears that this was recorded some distance from the transmitter. We thank John Breslin for the donation.