Podcast: Play in new window | Download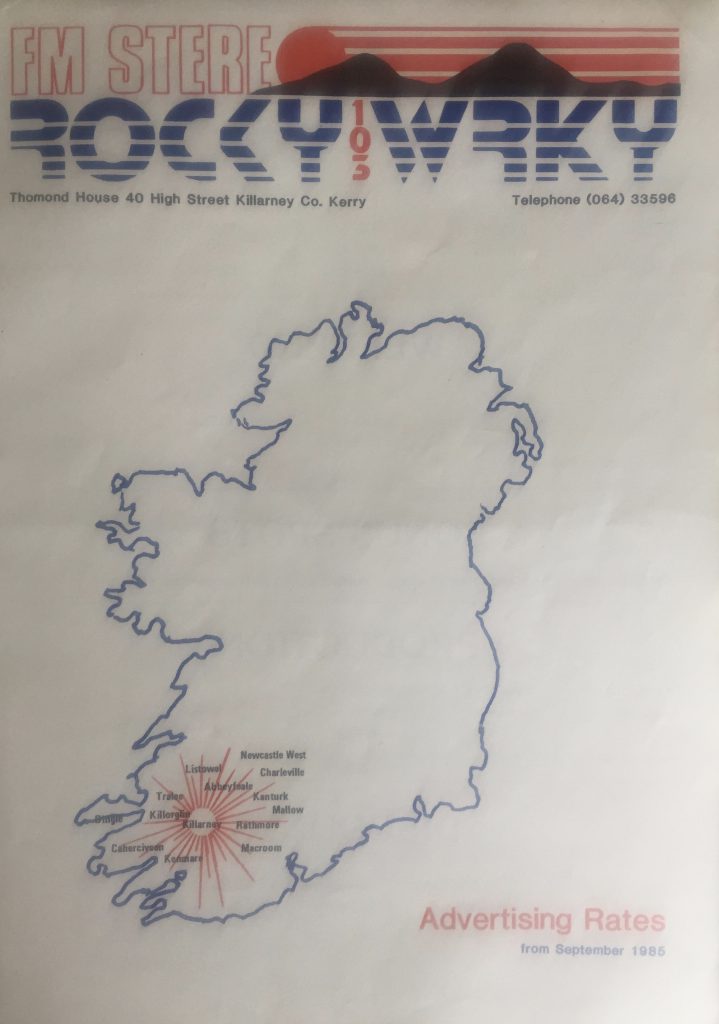 WRKY Rocky 103 broadcast from Co. Kerry under different guises and from different locations. It was launched in September 1984 in Killarney on 103.2 FM with a repeater to the south in Farranfore on 97.2 FM. WRKY emerged from Mike Richardson's popular Big L Radio in Limerick which closed in April 1985. In 1986 WRKY was hit by scandal when £10,000 raised as part of the global Sport Aid initiative went missing along with one of its presenters. In September Phoenix magazine reported that staff at WRKY walked out after demanding a pay rise from station owner Donal O'Doherty, having been offered more money by another local businessman planning to set up a rival, unnamed station.
Horizon Radio was a spin-off of WRKY set up in June 1986 by Mike Richardson and Francis Jones. It began in Killorglin but later moved to a hotel near Tralee before closing in 1987. Richardson ran a station called Rocky 103 from Listowel in north Kerry in 1988. Thanks to Ian Biggar, Liam Byrne and Martin Ryan for additional information.
This recording from 103 FM from 1.03pm was made on Friday the 7th of June 1985. The presenter is unidentified but sports news is read by Vincent Casey and news is read by Mary O'Sullivan at 1.30pm. The format is a mixture of pop, Irish showband and country and there are community notices and ads for local traders. The recording is from the Skywave Tapes Collection. Skywave Radio International broadcast a shortwave station in the 1980s from Baldoyle in northeast Dublin. Further jingles can be heard below.