Podcast: Play in new window | Download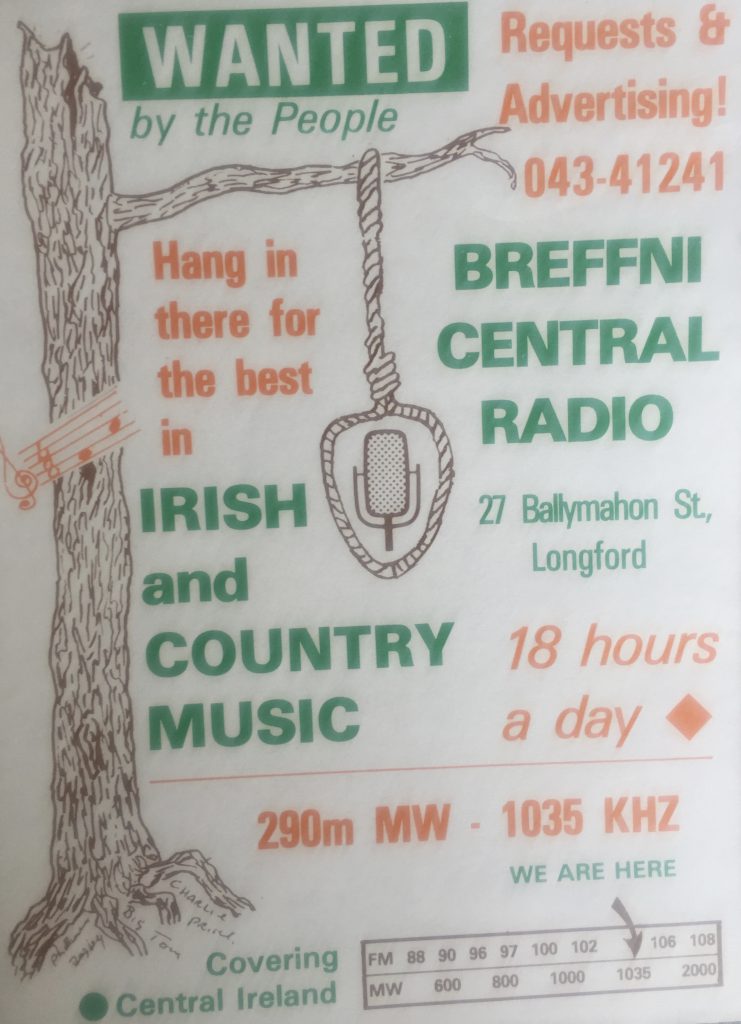 This recording made by Brian Greene on AM in July 1985 shows how licensed stations were sometimes literally sandwiched between two pirates. The scan begins with Downtown Radio in Belfast, a faint signal as heard in north Dublin on 1026 kHz. Of course ABC Radio in Tramore were on the same frequency but could not be received on the northside of Dublin because of Downtown. Brian then tunes slightly to the left where Capitol Radio can be heard on 1017 kHz, before tuning back to Downtown again. The scan then moves up another channel to 1035 kHz, where a faint signal from Breffni Central Radio in Longford can be picked up, over 120 km from Dublin.
We are not aware of any online recordings of Breffni Central Radio, an offshoot of Breffni Radio in Kilnaleck in Cavan. Breffni Central began on the 10th of June 1985 and was intended for reception in counties Longford, Roscommon, Galway and Mayo. In fact the estimated 1 kW signal on 1035 kHz was heard over a wide area, helped by a 50-ft high mast. This stretched as far as Galway and Dublin, as this recording shows. Similar to the original Breffni Radio, Breffni Central broadcast Irish and American country music but the two stations each had separate services and did not share programming. We thank Seán Brady for help with information and Ian Biggar for the image.
You can listen to an interview with Gerry O'Reilly, who built transmitters for several stations including Breffni Radio, here.