Podcast: Play in new window | Download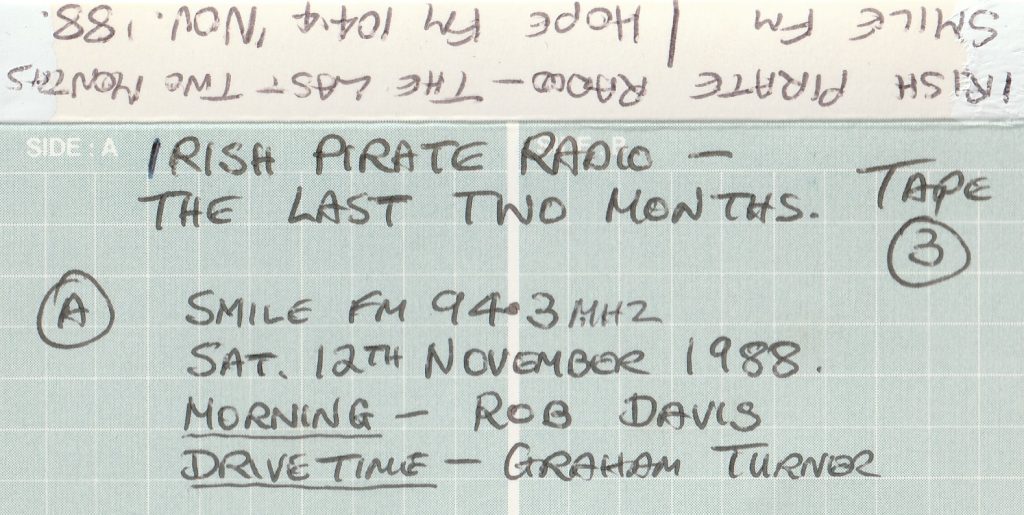 Smile FM began broadcasting from the suburb of Ballyfermot in west Dublin in January 1987 and continued until the pirate closedowns at the end of 1988. It was set up by former Radio Dublin manager Brian Paige and first noted around 94 FM by Anoraks UK in its Weekly Report of 11th January 1987. The edition of the following week reported that an easy listening format was planned originally but that Smile FM had opted for Top 40 music instead.
In this recording from about six weeks before the closedown of Smile FM, we hear airchecks of Saturday morning and evening shows. First up is Rob Davis from 10am with chart hits, adverts for small local shops and businesses and a community noticeboard. An announcement advises about the impending closedown of pirate radio and invites listeners to express their support for Smile FM. A promo is aired for a Sunday Anoraks Programme about the radio scene, a feature on various pirate stations of the era. Links from the drivetime show with Graham Turner are heard towards the end of the recording, featuring a more easy listening format. Station idents are voiced by Seán Ashmore.
This recording was made on 12th November 1988 from 94.3 FM by Kieran Murray, who is mentioned by the DJs. It is from the Anoraks Ireland Tapes Collection, donated to us by Paul Davidson.