Podcast: Play in new window | Download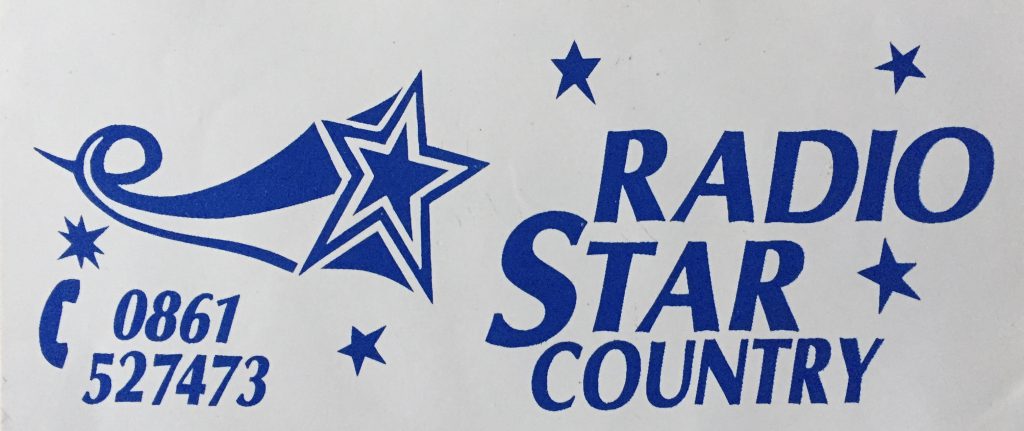 Radio Star Country is one of the longest-running Irish pirates ever, operating more or less continuously since 1988 to the present day. After a successful 1989 when it pulled in plenty of income in local advertising revenue, Radio Star Country continued unimpeded into 1990. There is a dramatic account of the station in a book by Cathal 'Ray' McSherry, A Different Wavelength: The Pirate Radio Days from 2004: 'My first visit to Radio Star headquarters was unforgettable. After leaving the main road and travelling for twenty minutes, I arrived at an old ramshackle single storey dwelling at the side of a narrow boreen. Cement or breeze blocks filled out the windows. Inside was a bare earthen floor which was more likely to the found the days of the Famine. There was a fireplace minus a grate and in all honesty the whole thing looked so absurd and surreal. It was a spectacle I'll never forget but this was our "studio". From here we would defy the powers that be and from here we would broadcast our shows, send out our music and entertainment and silently wonder, or think to ourselves often as not, if we weren't completely coco-pops. Within this hampered house was a mixing desk, microphones, turntables, and all the paraphernalia of radio pirating. A mast was located two miles away to receive the FM signal'.
Radio Star Country seems to have been largely left alone by the authorities for most of its existence apart from a few attempts to close it down in the early years after the introduction of licensed radio. Its premises in the Bragan Mountains north of Monaghan Town was raided by gardaí and Department of Communications officials on 29th August 1990 and transmission equipment seized but the station was back on air within 48 hours. There is also a report of the station's FM transmitter being removed by the Department in spring 1991. Sean Brady, who spent four years with Radio Star from January 1992 to March 1996 tells us that there were no raids or visits from the authorities during that period, when the station broadcast from a caravan near Smithboro and then a location close to Monaghan Town. On 17th March 1994, a new FM transmitter on 103 FM was switched on and aimed at Fermanagh and Armagh. On 27th January 2006, the Irish Independent reported that two farmers on the Monaghan/Tyrone border were fined for allowing a pirate station to broadcast from their land. Although the station was unnamed, we presume this refers to Radio Star Country also. Other than these isolated examples, we have no other records of raids on the station.

This recording was made from 891 kHz from 0917-1002 on 23rd January 1989, just a few weeks after the new broadcasting law came into effect. On air is Isobel Byrne (RIP), the late wife of the former station owner Gerry Byrne. Reception is fair, reflecting the fact that the recording was made in Scotland. We thank Ian Biggar for the donation and for background information. Radio Star Country continues to broadcast on 981 kHz and on its website.