Podcast: Play in new window | Download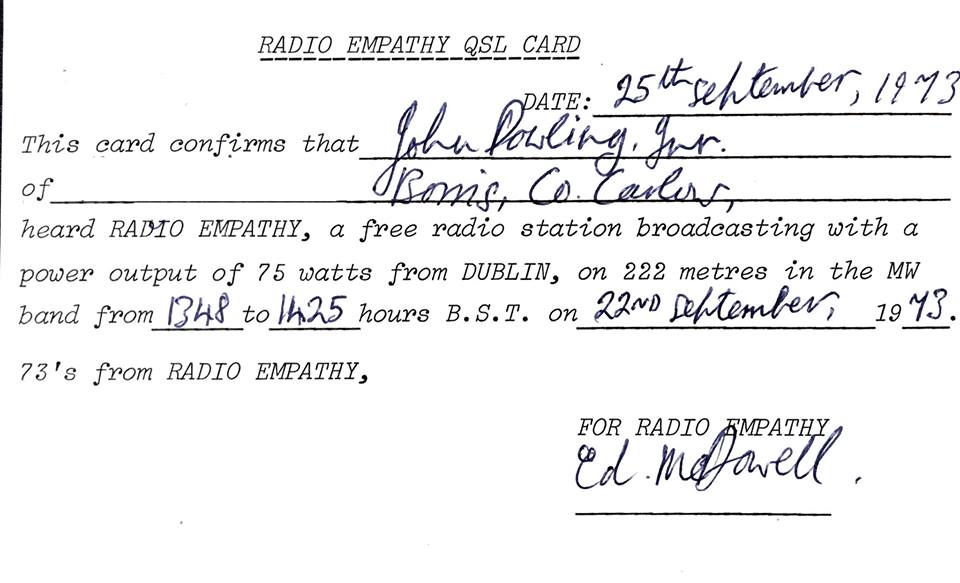 Late summer of 1972 was a busy period for pirate radio in Dublin. Kieran Murray remembered one particular day in September in the first edition of his FRC Ireland Newsletter.

Of course, such increased activity prompted a proportionate response from the P&T which culminated in the raid on Radio Milinda on December 17th. This pretty much silenced all the free radio stations in the city with the exception of one. Radio Empathy commenced broadcasts in early 1973 from the Churchtown area. The station operated on Sunday afternoons as well as some late-night transmissions on 1378 kHz. Station operator was Ed McDowell (Eoin McDonagh) who was also the main presenter on the station. Regular late night Saturday and Sunday afternoon transmissions continued every week with a power of around 100 watts. The station pioneered the use of FM in the city with broadcasts around 98 MHz.
With such a regular service it was only a matter of time before the P&T took action, which they did on April 4th 1974. The transmitter and studio equipment was confiscated. The resulting court case on October 4th 1974 was reported in the Irish Radio Movement's Medium newsletter.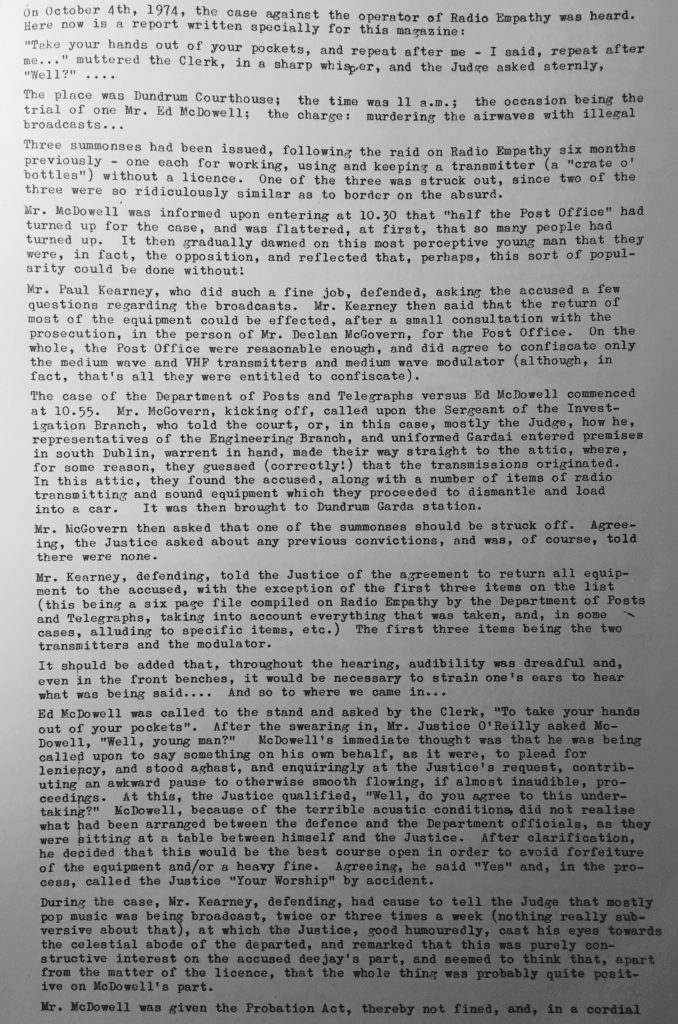 Ed McDowell would go to to found Capitol Radio which broadcast for the latter part of 1975 and again for three years from 1978. The recording above features Radio Empathy signing off one Sunday in 1973 or 1974 with Ed McDowell. 222 metres is announced which corresponds to 1350 kHz although presumably the actual frequency was around 1378 kHz. There were obviously some technical problems that day judging by the audio. Thanks to Ian Biggar for the text, Roger Lloyd for another gem of a recording and John Dowling for the QSL card, which was for daytime reception in County Carlow.
That concludes our mini-series on the pirate pioneers of the Dublin radio scene in the late 1960s and early 1970s, without whom the 1980s boom would never have happened. Thanks again to Ian Biggar for supplying much of the material and to all others who contributed recordings, images and information.