Podcast: Play in new window | Download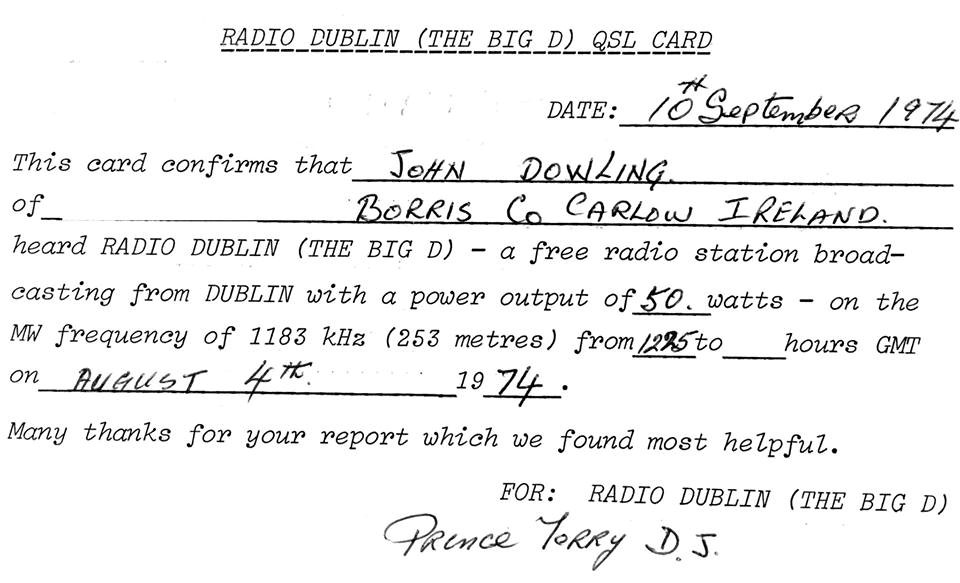 Following a brief period as Static Radio on 225 metres in late 1971 or early 1972, Radio Dublin re-established itself as a regular weekend broadcaster. Broadcasts resumed on 253 metres (1183 kHz) with a power of 50 watts fed into a V-antenna. At this point the station was located in Roger Lloyd's flat in Crumlin. They were very pleased to get a reception report from a listener in Cheshire for a normal Sunday lunchtime broadcast.
Regular broadcasts were made every Sunday from noon until 2pm with Prince Terry (Roger Lloyd) and Mark T. (Mark Story) each doing an hour. The station served the young people of Dublin who had a penchant for heavier music. However, in the latter part of 1972 trouble first appeared on the horizon for the Dublin free radio stations. A white Volkswagen tracker car was spotted in the vicinity of Radio Galaxy, with the operator Tony Boylan quickly informing the other pirates in the city. The car, along with another, duly turned up in the area fairly close to Radio Dublin, which was forced to abruptly terminate its broadcasts one Sunday.
As a result, the operators of Radio Dublin decided to suspend transmissions on medium wave, with a plan to move to short wave which attracted less attention from the Department of Posts and Telegraphs. Reluctantly Radio Dublin made its final broadcast for the time being in October 1972, a wise move considering the raid that followed on Radio Milinda just a few weeks later. We will cover the Milinda story in another post.
This recording, which was supplied by Roger Lloyd, features Prince Terry and Mark T. with their goodbye shows. The American jingle package of WDEE 'the Big D' is heard throughout. There is also a taped appearance at the end of the transmission from Ken Edwards (Sheehan), the founder of Radio Dublin. We thank Ian Biggar for the text and for sharing this rare recording.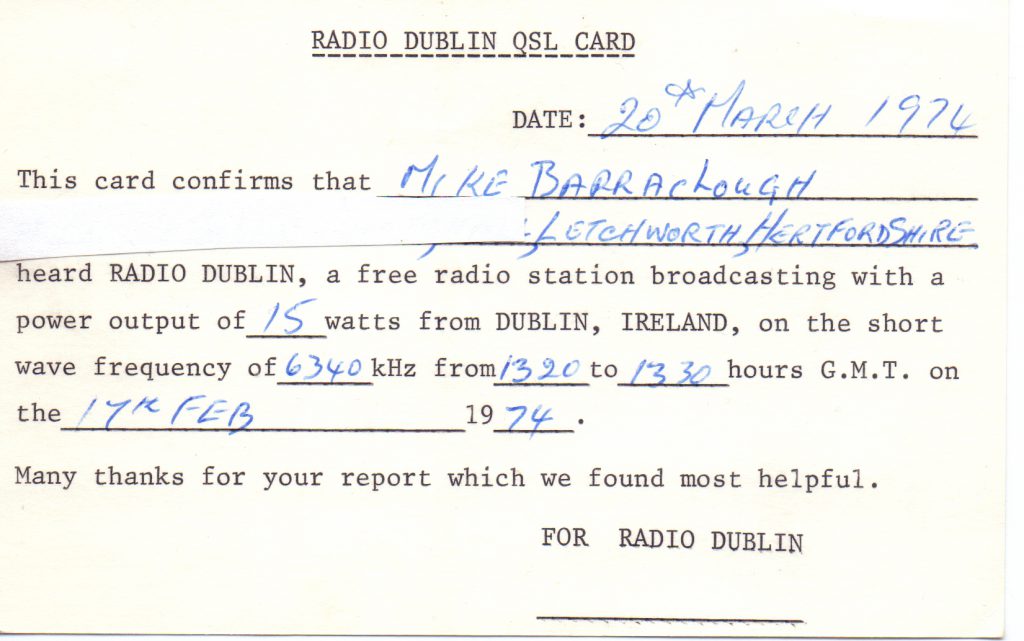 Radio Dublin did make some transmissions on shortwave in 1973 and 1974 as the QSL received by Mike Barraclough in Herfordshire shows, as well as sporadic transmissions on 253 metres as illustrated by the QSL received by John Dowling in Carlow.