Podcast: Play in new window | Download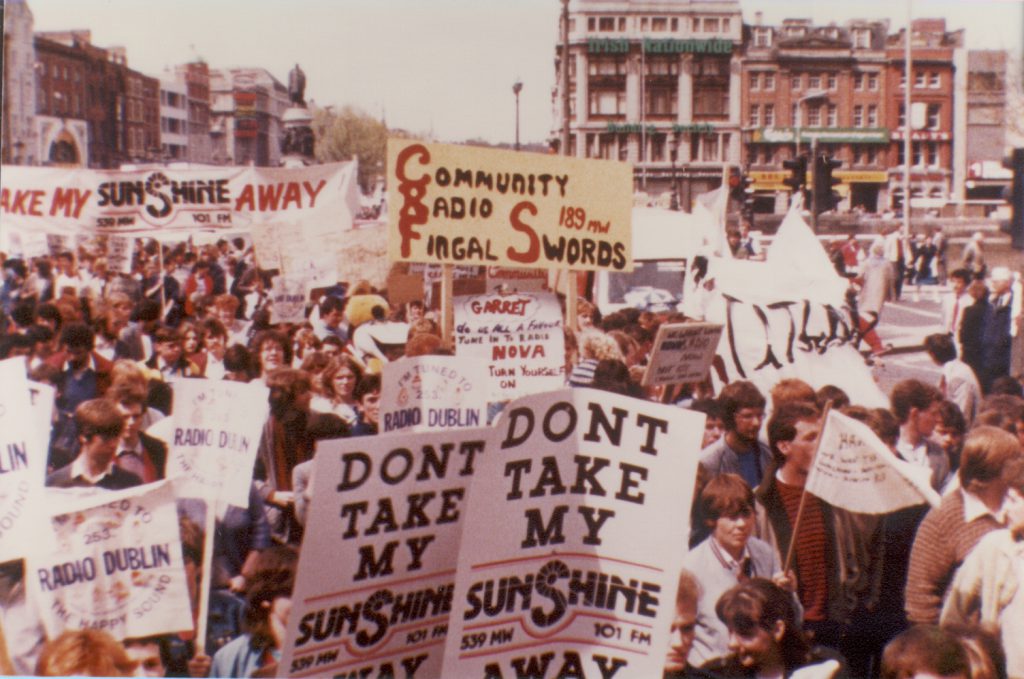 Following the raids by the Department of Posts and Telegraphs on the large Dublin stations Radio Nova and Sunshine Radio, fear spread through the pirate radio world in Dublin and further afield. Many stations closed temporarily as a precaution and Radio Leinster left the airwaves for good. It was expected that the long-running Radio Dublin in Inchicore would be the next to be raided and the premises and equipment were secured as a precaution. During Thursday 19th May, the date of Radio Nova's official closedown, Radio Dublin opened its phone lines and studios to listeners concerned that they were to lose their favourite pirate stations.
This recording of that afternoon captures both the growing sense of panic among the pirates and the deep loyalty of listeners to Radio Dublin. First up is DJ Damien McCloskey who chats to other DJs and listeners both in studio and by phone, all of whom express their anger at the Department of Posts and Telegraphs. A protest march to support local radio is announced for the following week and there are references to the demise of Radio Leinster and the forthcoming Nova closedown. There are plenty of technical glitches and the Department is accused of jamming the phone lines preventing listeners from getting through. At 4pm Seán Day (Murphy) takes over and continues in the same style.
Audio quality is fair with some cassette degradation and wobble. The recording was made on 19th May 1983 from 1188 kHz, announcing 253 metres, and there is ample use of the iconic Radio Dublin 253 jingle package and station theme 'I Like It' by the Da Band. Radio Dublin was not on FM that day, probably as a precaution against removal of transmission equipment. Part 1 of the recording above begins at 1510 and Part 2 below at 1608 but there are minor edits in both.
The recording is from the Skywave Tapes Collection. Radio Skywave International was a 1980s shortwave station from Baldoyle in northeast Dublin.