Podcast: Play in new window | Download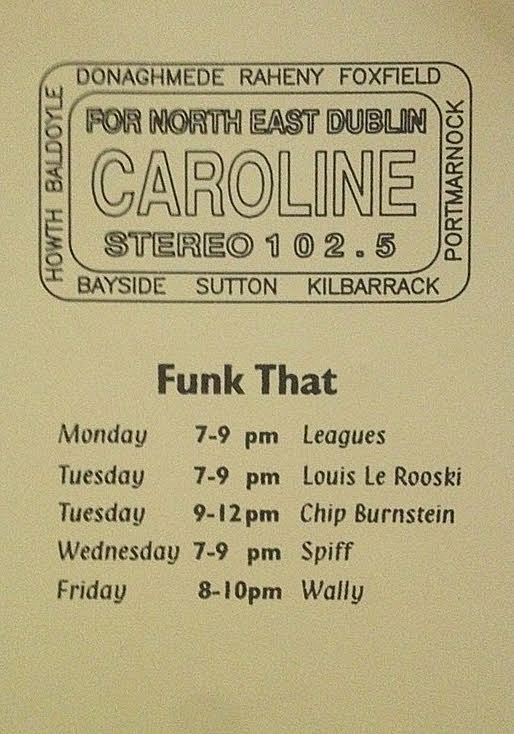 Radio Caroline Dublin (1989-2000) was one of the longest running stations of the second wave of the pirates following legalisation. It was set up by Brian Greene (Bobby Gibbson on air) and Tom Berry (RIP) who had previously run Centre Radio from Bayside in 1987-1988. Radio Caroline Dublin began broadcasting on bank holiday Mondays in 1989 and went full-time in January 1992. The station settled on 102.5 FM and increased its signal overtime but ran into difficulties with the authorities when Lite FM (later Q102) was licensed for 102.2 in 2000. Radio Caroline Dublin changed its name to WXTC but closed soon afterwards.
Radio Caroline Dublin was typical of pirate stations of the era. The Broadcasting and Wireless Telegraphy Act 1988 forced pirate from the high street and hotels into garden sheds for the majority of the 1990s. Radio Caroline Dublin never ran adverts and did limited fundraisers. Its core funding was through vigorous adherence to DJ subscriptions. Weekly and monthly subs were collected with two tiers for waged and unwaged. The subs from 25+ volunteers funded the very best of club DJing equipment in studio and a Dublin Mountains TX site. The subs were directly linked to democratic involvement in purchasing decisions. Ownership structure was more akin to 1970s AM pirates but there was a not-for-profit ethos from the start.
Full time hours were 5pm-12am Monday-Friday and 9am-1am at weekends. The station was involved in an unsuccessful licence bid for a community radio licence in 1996, and was a constituent group in the formation of Dublin-wide community of interest station Anna Livia FM, but then never got involved with that station as they were busy building Radio Caroline Dublin.
This interview with Brian Greene was conducted by Pete Reid (Simon Maher) and Gerard Roe in July 1998 in the Radio Caroline Dublin studio. It was featured in Anorak Hour #151 on 2nd August 1998 on Phantom FM and repeated during Anorak Hour #249 on 17th September 2000. This donation is with thanks to Gerard Roe.