Podcast: Play in new window | Download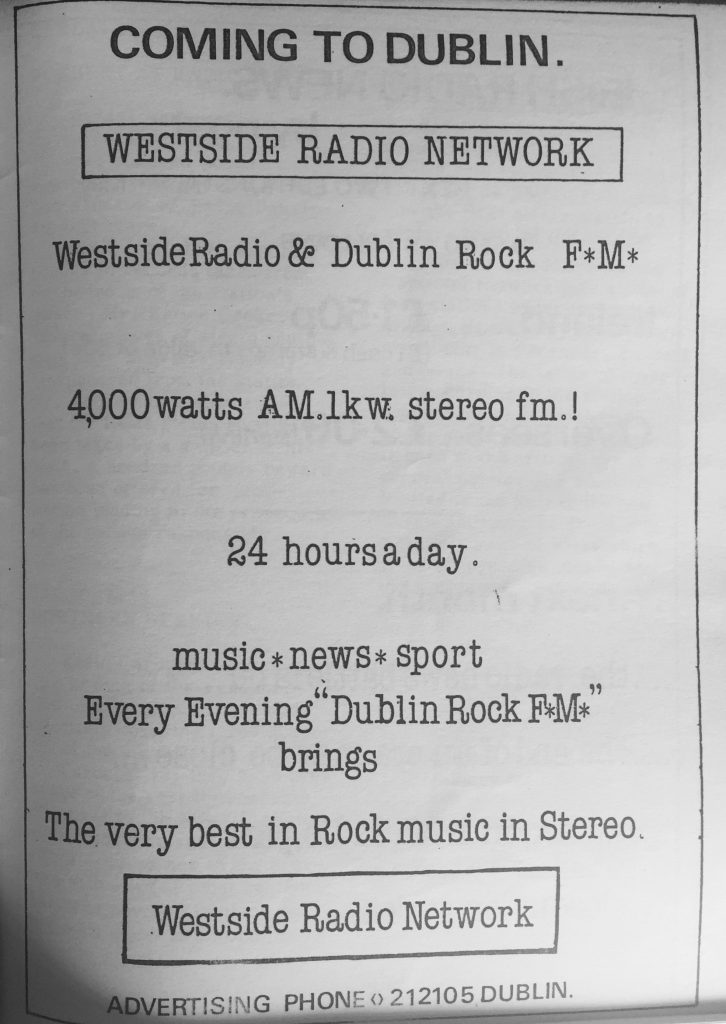 Westside Radio broadcast on 290 metres (1035 kHz) and began its life as Double R Radio in Inchicore in the house of the late Seán Day (Murphy). It migrated between various hotels and pubs in the city. In early 1983, Gerard Roe reported in Irish Radio News that Westside had tested on a number of occasions on 290 metres from a site in Mulhuddart in the northwest of the city with a strong signal and good audio quality. They were later reported to have run into legal trouble and were told to vacate the pub in Mulhuddart from where they were broadcasting. This recording was made on the 18th of March 1983, the day of the raid on Radio Nova which led many stations to close down temporarily. Westside returned but not for long because Anoraks UK reported in July that it had closed down 'due to interference with a computer'. According to Offshore Echoes in October 1983, one theory circulating was that as the station was based on licensed premises, the pub owner didn't want to jeopardise their forthcoming licence renewal.
Westside merged with ABC Radio to become Radio Annabel, which began testing by September 1983 on 1035 kHz and 98 MHz FM. Some of those involved in Westside set up Blanchardstown Community Radio in a near-derelict building on the main street in the west Dublin suburb. The second undated clip below is also from 290 metres, although the very start is clipped. It is an advertising promo for Westside voiced by Gerry Marsden who took over management of the station in 1983 and would later work in Radio Dublin. There is no link with the long-running shortwave pirate Westside Radio International. Thanks to Ian Biggar and Paul Shepherd for additional information.
This recording is from the Skywaves Tapes Collection. Skywave Radio International was a shortwave station in the 1980s from Baldoyle in northeast Dublin.