Podcast: Play in new window | Download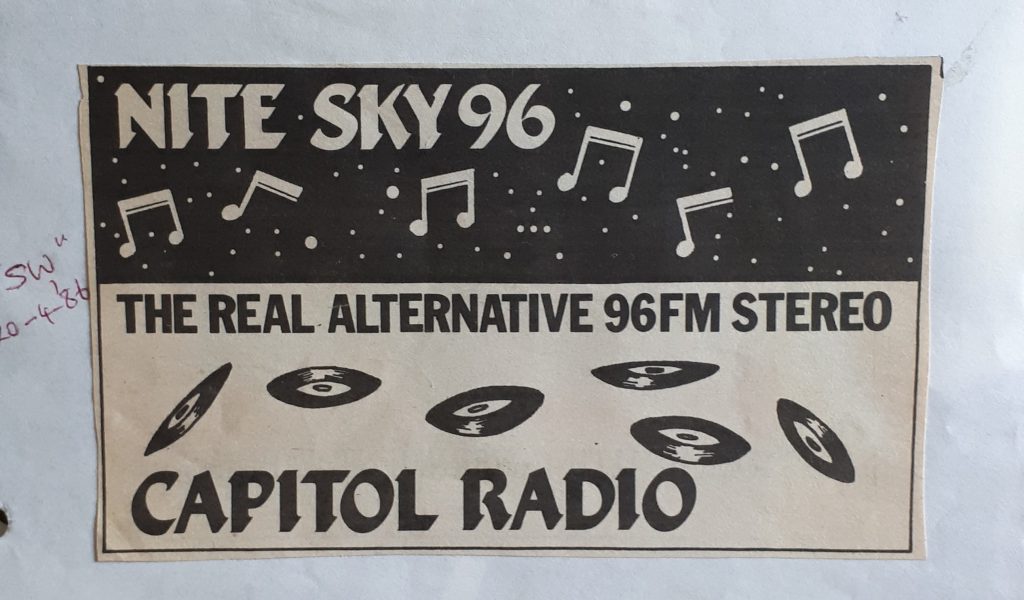 On the 1st of July 1986 Dublin's Capitol Radio launched a night-time service from 6.00pm called Nitesky 96 which aimed to offer more specialist music shows and talk programmes. For some years previous to this Capitol had specialised in album tracks rather than the latest hits and it moved more and more into the alternative/indie realm with the launch of Nitesky 96. In its later years Capitol/Nitesky ran a popular 'Alternative Night' every week at McGonagle's nightclub in Dublin and it was known for supporting the lively Irish rock and indie scene throughout the 1980s.
This recording from 1755-1840 on the 16th of July 1986 features the switchover from Capitol to Nitesky with Dave Carney (aka Alan Cantwell who would go on to work in licensed local radio and TV3). News at 6.00pm is followed by the evening Magazine Show presented by the station owners Conor Brooks and Stephen Ryan. The music is more MOR rock than indie but Nitesky had plenty of programming showcasing the less mainstream material. The recording was made from 95.8 FM and the audio is distinctive because it lacks processing or compression and gives the full dynamic range of sound including crackle on vinyl records. You can hear Capitol/Nitesky jingles here.

This recording is from the Skywave Tapes Collection. Skywave Radio International broadcast a shortwave station in the 1980s from Baldoyle in northeast Dublin.