Podcast: Play in new window | Download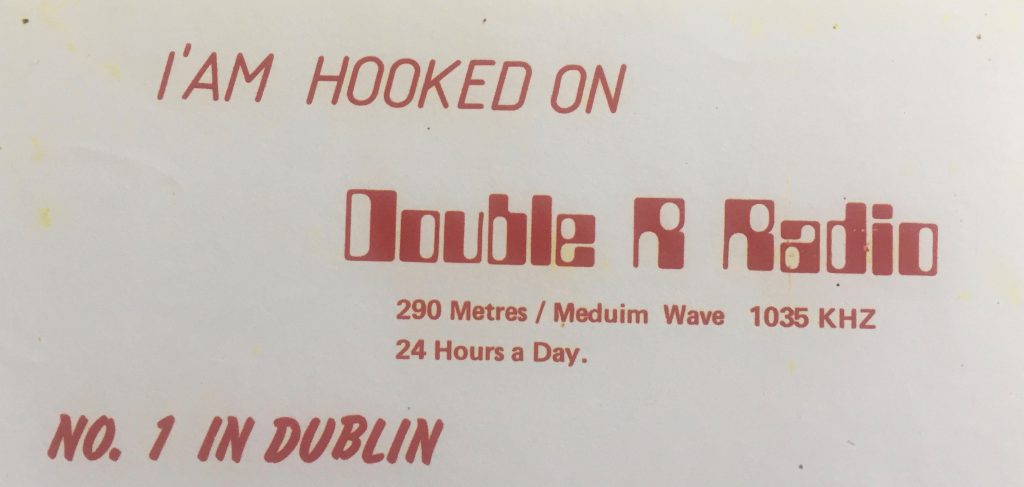 Double R Radio was an earlier incarnation of Westside Radio, one of the smaller Dublin pirates of the early 1980s. The origin of the Double R name has never quite been clarified. Ian Biggar reports that he has heard Railway Road, Radio Ripple and RocknRoll from various sources. Short Wave News from November 1981 reports Double R Radio on 1035 kHz from the Waldorf Hotel, Eden Quay with a 24 hour daily schedule. Short Wave News in January 1982 says Double R Radio has been evicted from the Waldorf Hotel and is now at the Spa Hotel, Lucan. Co. Dublin. The March 1982 edition states that Double R Radio is probably off the air now. The May 1982 edition says that Double R Radio has disappeared after being thrown out of various hotels, but a new operation, possibly related, is Westside Radio on the same frequency with an address in James' Street.
This recording was made by DX Archive on a tour of Ireland in 1981. It was really strong around the Inchicore area of Dublin at that time so they assumed that was where it was coming from. Gary Hogg noted on his trip in April 1982 that Double R had been replaced by Westside Radio on 1035 kHz so we can safely say same station, different name. The recording, courtesy of Ian Biggar, is of Paul Cantwell followed by Declan George on the 14th of August 1981 from 2030-2119.