Podcast: Play in new window | Download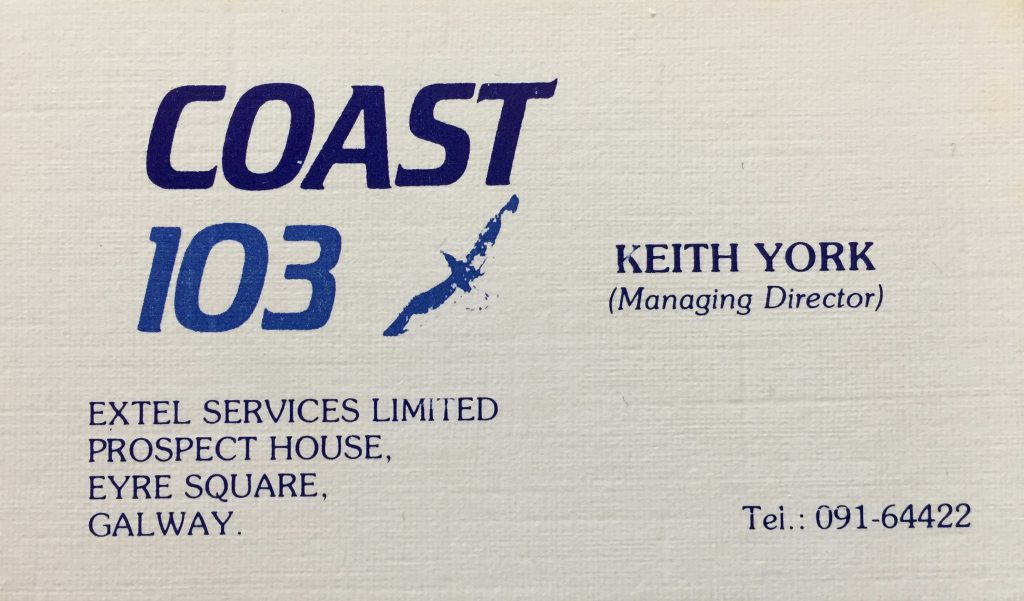 Coast 103 was on air for 18 months in 1987 and 1988 and was the last of the large commercial Galway stations of the era. It emerged from WLS Music Radio and began testing on the 10th of July 1987 as Coast 100. The station was set up by Steve Marshall and Keith York (RIP) who had been involved in both WLS and an earlier station, Atlantic Sound. Coast was located at 24 Prospect Hill, the same address as WLS. It soon moved to 103 FM and added a 1 kW transmitter on 1566 kHz AM. According to the Anoraks UK Weekly Report, the backers were Keith York himself, another pirate station WKLR in Bandon and a number of Galway businessmen.
In April 1988 the Limerick station Hits 954 closed and merged with Coast 103, calling itself Coast Hot Hits and covering Galway, Clare and Limerick. The original Hits 954 AM transmitter was used to relay the Galway signal although there were problems with the antenna and power was never too high. There is poor audio quality on this promo for the new station, voiced by Stuart Clark, recorded from AM in Limerick.
A chain of FM transmitters was installed between Galway and Limerick allowing FM reception to the south almost as far as Cork city and well into counties Kerry, Tipperary. The Galway FM transmitter, with an estimated maximum power of 3 kW ERP was brought to a higher location to allow improved reception to the north into Counties Mayo and Roscommon. The AM signal could be heard in Scotland but FM was the priority in the station's last year. Coast Hot Hits was one of a number of stations to carry the satellite service Radio Nova International on overnights in 1988. It also made a number of successful outside broadcasts from Limerick and Galway. In the competitive Galway pirate scene of 1988, there was intense rivalry with the other big station County Sound. Coast presenters included Tony Allan, Steve Marshall, Stuart Clark, Brian Walsh, Ger Sweeney and Shane Martin. The station closed at the end of 1988 in line with the new broadcasting legislation. You can listen here to an interview with Ger Sweeney in which he remembers his time at Coast.
This recording, courtesy of Ian Biggar of DX Archive, is from the 1st of November 1988 from 1113-1200 and features Steve Marshall on air with the great Tony Allan's voice on many ads and promos.