Podcast: Play in new window | Download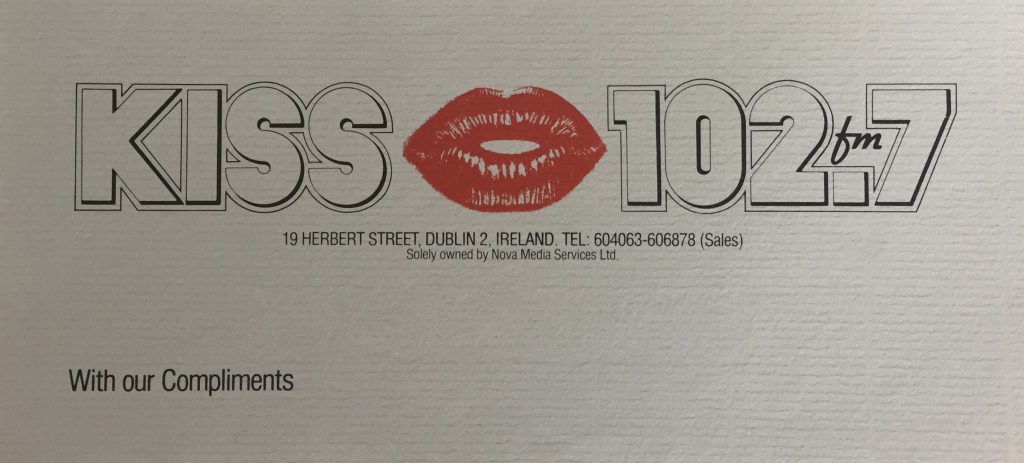 This recording of Radio Nova sister station KISS FM was made on Christmas Eve 1983, not long before the station closed. On air is Dave Harvey with the Airplay Top 40, aired every Saturday on KISS FM at the time. News on the hour is read by Bernie Jameson who continues to broadcast on independent radio today. There's also a promo for a daily £100 giveaway.
KISS FM was set up in September 1982 as an experimental local station for Dublin and to absorb additional advertising revenue from Radio Nova. While the large number of Christmas adverts on this recording indicates commercial success, behind the scenes Nova was facing enormous challenges due to ongoing jamming by RTÉ. Against this backdrop, KISS closed less than a month later on 15th January 1984. Dave Harvey was heard on various incarnations of Nova and subsequently on licensed stations including Century Radio, RTÉ and 4FM, now Classic Hits Radio.
Part 1 of the recording above begins at 0945 and Part 2 below at 1020. Towards the end of Part 2, the recording seems to switch to another channel for a few minutes.
The recording was made from 102.7 FM and is from the Anoraks Ireland Tapes Collection, donated to us by Paul Davidson.