Podcast: Play in new window | Download

This recording of Radio Nova was made on Christmas Eve and Christmas Day 1982, by which time the station was well established as one of the leading pirates in Dublin and Ireland. The tape kicks off with Scott Williams who finishes his show with a Christmas tune from a group of singers in studio. 'Independent radio news from Ireland' at midnight is read by Siobhán Purcell. 'Clutterfree Nova' – continuous music – follows for the next 40 minutes or so before Roland Burke (RIP) signs on until 6am on Christmas morning. Among the requests from listeners is one from Liverpool, reflecting the wide range of Nova's coverage.
The tape was recorded from 88.2 FM. Since August, Nova was also broadcasting on 819 kHz AM but the cassette label refers to the earlier frequency of 846 kHz.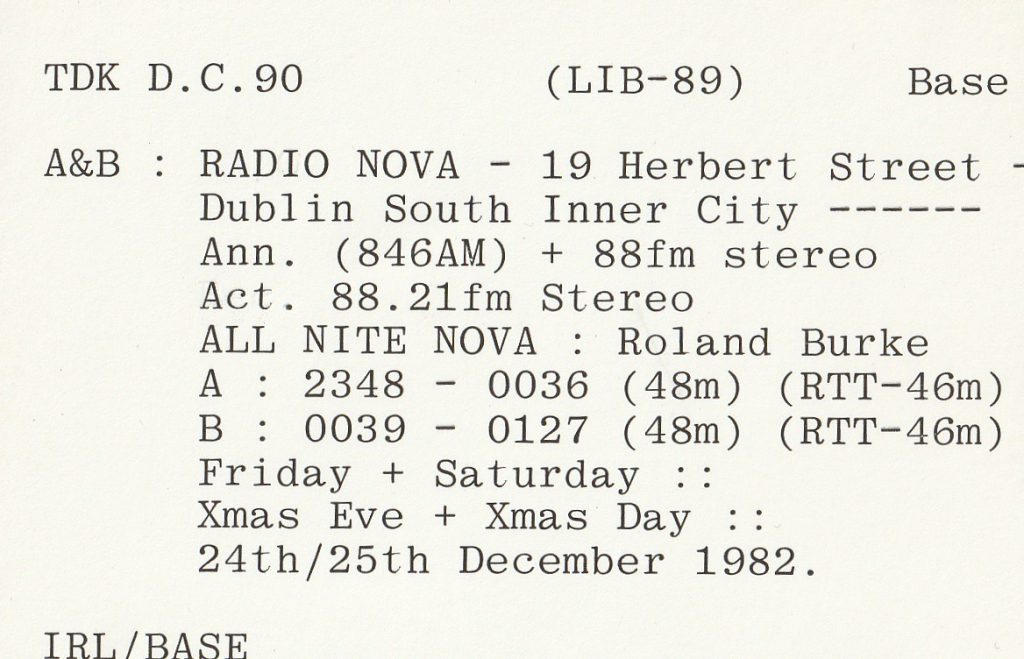 Part 1 above runs from 2348 and Part 2 below from 0039.
The recording is from the Anoraks Ireland Tapes Collection, donated to us by Paul Davidson.