Podcast: Play in new window | Download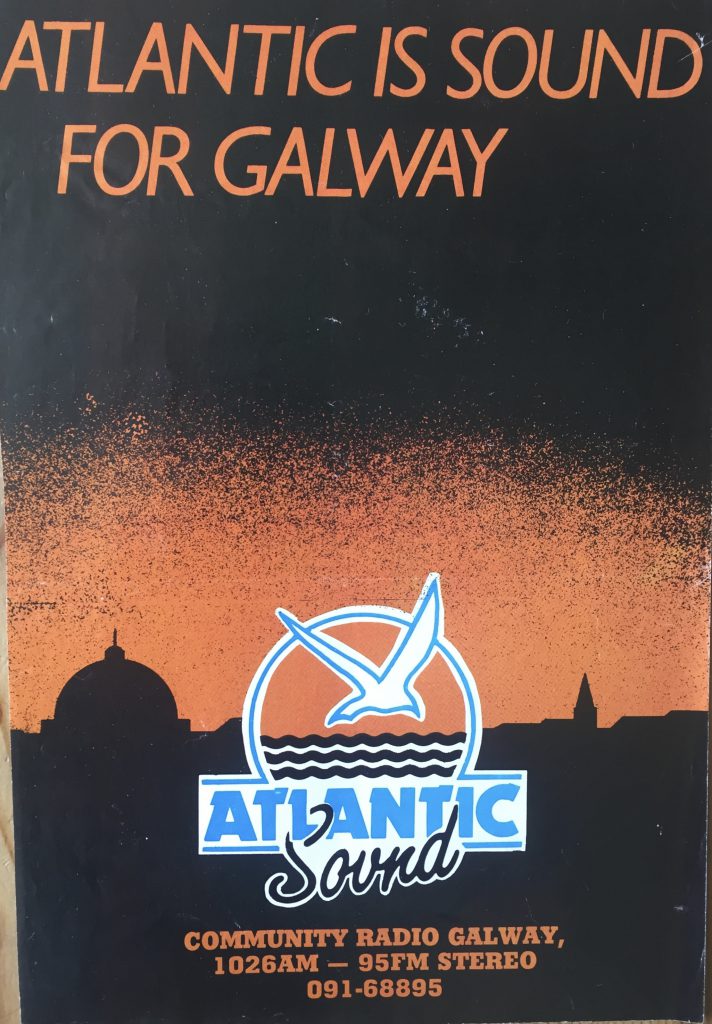 Atlantic Sound broadcast from Galway City from December 1983 until June 1985. It was set up by Alan Russell who had run previous stations in Dublin. Test transmissions were heard before Christmas on 1107 kHz (announcing 273 metres) with a full schedule starting in January 1984. Atlantic had a daytime Top 40 and oldies format and hosted interviews with local personalities, musicians etc. Specialist music interests were catered for in evening programme segments, for instance an Irish traditional programme presented by musician Gary Shannon. As part of news and current affairs coverage the station ran the Time World News series, organised by the late Robbie Robinson.
Alan Russell said: 'From my background in steering Capitol Radio through a plethora of stations in Dublin, I knew there was little point in providing a "poor man's RTÉ Radio2" as a local radio choice in Galway city and county. The choice had to be real with local musicians, bands and cultural interests reflected in the overall station content'.
The station was taken over in mid-1984 by former offshore DJs Keith York (RIP) and Don Stevens who moved from South Coast Radio in Cork after it closed down. Steve Marshall, who had worked for WKLR in west Cork, later became involved. Alan recalls that Keith was hired to check over an ex-BBC transmitter to ensure it was fully operational: 'I recall it had Mercury valves and the transformers had to be removed to lighten the weight before hauling it up to the first floor where the station was based'.
Following the change of management, Atlantic changed its format to a formula of chart music and giveaways, the first of several Galway stations of the 1980s to do so. It also moved to 1026 kHz and added 95.4 FM and 99.1 FM. This recording features Seán Costello playing hits and taking requests. The voice of Don Stevens is heard on promos but there are very few ads. The recording was made from 99.1 FM and runs from 1753-1836 but we don't have a more precise date than the August bank holiday weekend 1984. Atlantic Sound faded away after the Cork trio set up another station, WLS Music Radio, across the road.
We thank Shay Geoghegan for this donation and Alan Russell for background information.