Podcast: Play in new window | Download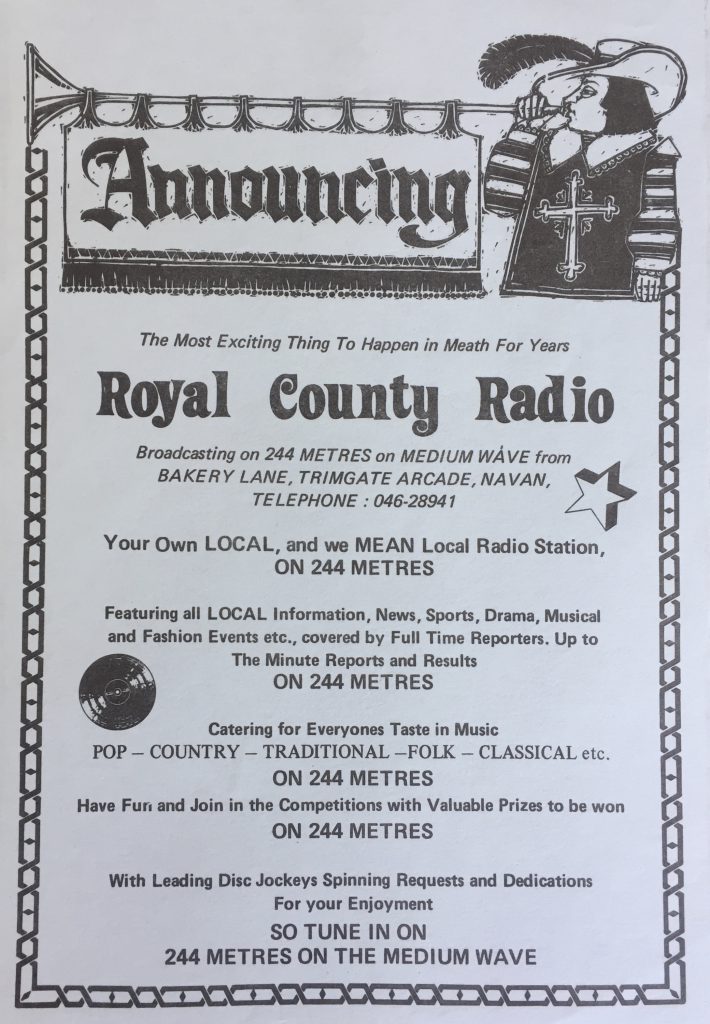 Royal County Radio was set up in Navan, Co. Meath on the 8th of October 1982 and was a rival station to the popular Radio Carousel which broadcast from the town's shopping centre. RCR was set up by ex-Carousel staff including the legendary Don Allen (RIP) who had worked on Radio Caroline North and Radio North Sea International. The station used the old Southside Radio transmitter from Dublin and moved around the medium wave band, starting on 254 metres (announcing 244 metres as in the flyer) then moving to 301 metres (999 kHz although they were slightly off-channel on 1000 kHz), before settling on 355 metres (846 kHz). An FM transmitter on 96.8 was added later. A report on an Irish tour by Anoraks UK in May 1984 describes RCR as going downhill as many presenters had left to join the new Cavan Community Radio, and the Navan station seems to have closed that summer.
This short recording is from 846 kHz and starts just before the midday news with Lynsey Shelbourne (Dolan). Don Allen's voice can be heard on promos and presenting. We estimate the date as sometime in the spring of 1983, as Don left RCR to go to ERI in Cork in April. One of the best known voices on rural Irish pirate radio in the 1980s where he presented many country music shows, Don died in 1995.  Thanks to Ian Biggar for his detective work which allowed us to piece together this information.  This recording is from the Skywave Tapes Collection. Skywave Radio International broadcast a shortwave station in the 1980s from Baldoyle in northeast Dublin.