Podcast: Play in new window | Download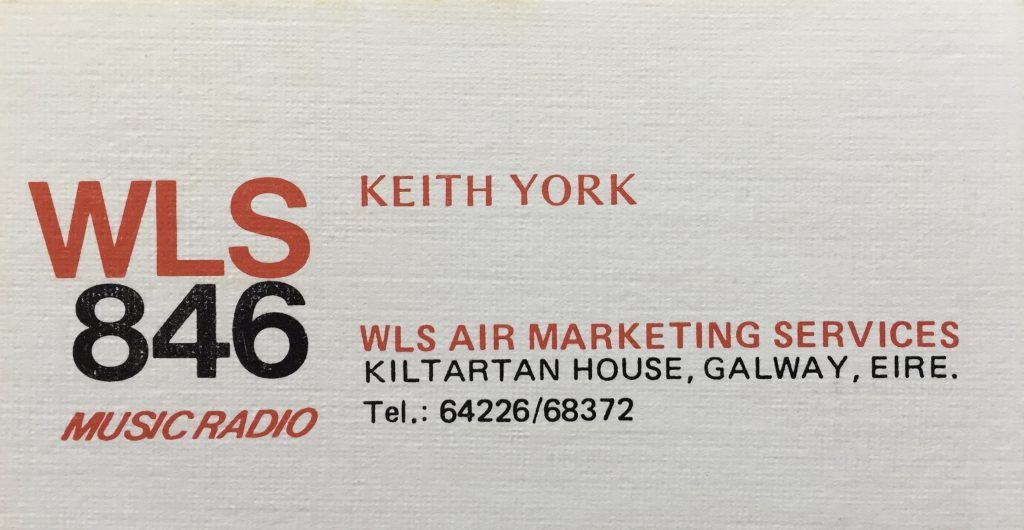 WLS Music Radio was a successful and professional pirate broadcasting to Galway for more than two years from March 1985 to June 1987. WLS stood for 'West Local Station' and was set up by former offshore DJs Don Stevens and Keith York (RIP) who came to Galway from Cork and joined the existing pirate, Atlantic Sound in 1984. WLS was launched around the 17th of March 1985 and broadcast on 846 kHz AM and 104 FM in stereo, later adding shortwave on 6240 kHz.
From the beginning, WLS Music Radio meant business and broadcast 24 hours a day with an hourly news service from 7am to midnight and it wasn't long until Atlantic folded. The technical set-up was impressive from the start with high quality Gates turntables and Spotmaster cart machines, according to the Anoraks UK Weekly Report in March 1985. There was a setback in May when RTÉ was granted a temporary injunction in the High Court against Don Stevens and Keith York preventing WLS from causing interference to television transmissions in Galway. In advance of the court hearing, WLS had moved to 102.7 FM to avoid interference. They also increased power to 520 watts ERP, claiming to be the largest FM transmitter ever heard in Galway. AM power was increased to 300 watts and reception reports came from as far away as Wales and Devon. By June 1986, Anoraks UK described WLS as 'one of the best equipped stations in Ireland, with a sound to go with it' and reported that it had many local and national advertisers. Presenters included Keith York, another former offshore DJ Steve Marshall and a veteran of the Dublin scene, Tony Allan, who joined in 1986. RTÉ claimed loss of £30,000 in advertising revenue in Galway and in June 1986 the High Court granted a permanent injunction preventing WLS from causing interference to television reception of RTÉ 2.
In June 1987 the Free Radio Show on Radio West reported that WLS had gone off the air after an irate investor unhappy with his return arrived at the station and dismantled equipment. WLS presenters could be heard on other Galway stations such as KFM and County Sound. In July, Steve Marshall and Keith York set up another successful Galway station Coast 103 which lasted until the end of 1988.
This recording is from 0850-0955 on the 27th of April 1985, during the early days of WLS. It features Don Stevens on the breakfast show and Laura Landers on news. The audio and presentation style is professional and reminiscent of the larger commercial stations in Dublin and Cork. There's even a reference to the weather forecast 'for the bay area', borrowed from Radio Nova! Many thanks to Ian Biggar of DX Archive for the recording.