Podcast: Play in new window | Download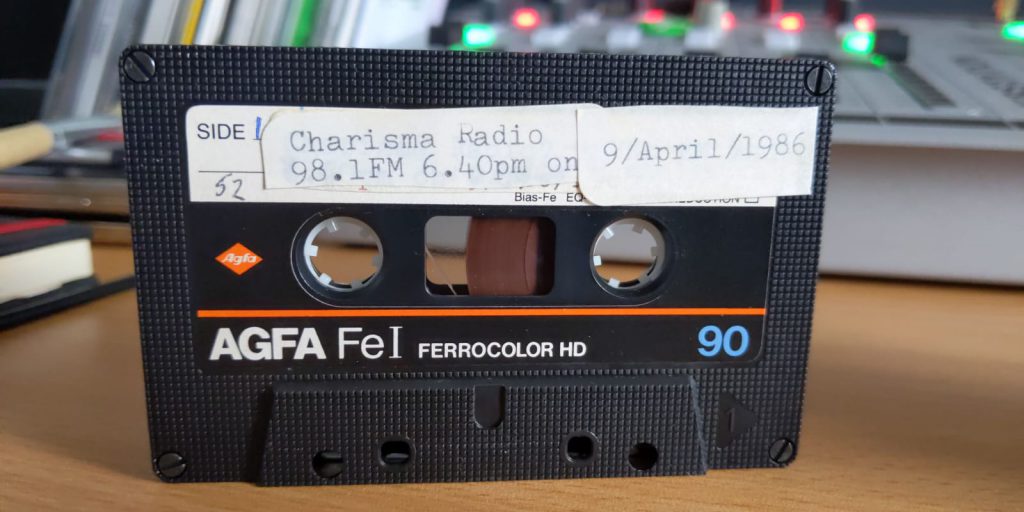 Charisma Radio was a low-power station broadcasting from various locations in Dublin in 1985 and 1986. Our recording from 98.1 FM is from the 9th of April 1986 and includes announcements that the station broadcasts to the neighbouring areas of Ranelagh, Rathmines and Rathgar on the southside of the city. The Anoraks Ireland report of the 19th of April 1986 lists Charisma FM as an irregular station on 97.9 FM from Blackrock/Phibsboro. It operated from a top flat at 11 North Circular Road for a period but had in fact moved to Ranelagh by that time. Charisma on 98.1 pops up in the Anoraks UK Weekly Report from June 1986 but by October, Ranelagh Community Radio is being reported on the same frequency. This was Charisma under another name because RCR is listed by Anoraks Ireland in 1987 and again in 1988 at the same address: 19 Dunville Avenue, Ranelagh, Dublin 6. There's a scratchy RCR jingle below based on the original Royal County Radio package. Under either guise the station seems to have operated in the evenings only.
This recording of Charisma is an automated broadcast complete with periods of dead air. It begins with music and idents and after that is an American Baptist religious programme. Listeners are invited to write to the programme in Arkansas but that is followed by an announcement of Charisma's Dublin address offering to forward letters to the US. Dublin had its own dedicated Christian pirate stations throughout the 1980s but American religious programmes popped up on smaller stations such as Charisma presumably for economic as much as for religious reasons.
One of the presenters on Charisma from North Circular Road was Colm O'Gorman, now Executive Director of Amnesty International Ireland, who remembers feeding the electricity meter to keep the station on air. Colm told us: 'It played sermons on reel-to-reel as a revenue stream but all the DJs were gay men and played lots of high energy and house music. I always played Bronski Beat "It ain't Necessarily So" after I had to put out one of the sermons!'
Reception is weak on the recording with plenty of interference but this is as the low-powered signal would have been heard on the northside of the city, well outside the target area. The recording is from the Skywave Tapes Collection. Skywave Radio International broadcast a shortwave station in the 1980s from Baldoyle in northeast Dublin.