Podcast: Play in new window | Download
Wonderland Radio was a community station broadcasting to the suburb of Tallaght in southwest Dublin from 1984 to 1988. According to local newspaper The Tallaght Echo, it was launched on the 12th of May 1984. One of those involved in setting up the station was the late Fr. Joe Cullen, a Dominican priest from Tallaght and Wonderland is yet another example of a community pirate established after the departure of RTÉ's local radio experiment from the area. The address for most of Wonderland's existence was a cottage at 3 Greenhills Road but it famously broadcast from the back of an ambulance at one stage. Wonderland was first noted by Anoraks UK on their Ireland tour in October 1984 and is logged a few times on 1359 kHz/220 metres over the following year although the signal on the west coast of England suffered from splatter from Manx Radio on 1368 kHz.
Wonderland's promotional material used the strapline 'Tallaght Community Broadcasting' and changed its name to Tallaght Community Radio in the summer of 1986. The station continued until the end of 1988 on both AM and FM (91.8 MHz) and as the advert below illustrates, shared the ethos of other community broadcasters such as BLB and NDCR. 'TCR' was not supposed to be used on air because the full title emphasised the station's community credentials. Wonderland and Tallaght Community Radio were also popular with radio anoraks because of the Friday night Free Radio Show hosted by Bernard Evans from late 1986. Many of those involved in the station went on to set up the licensed Tallaght FM which was on air from 1999 to 2008. Thanks to Ralph McGarry and Bernard Evans for assistance with research.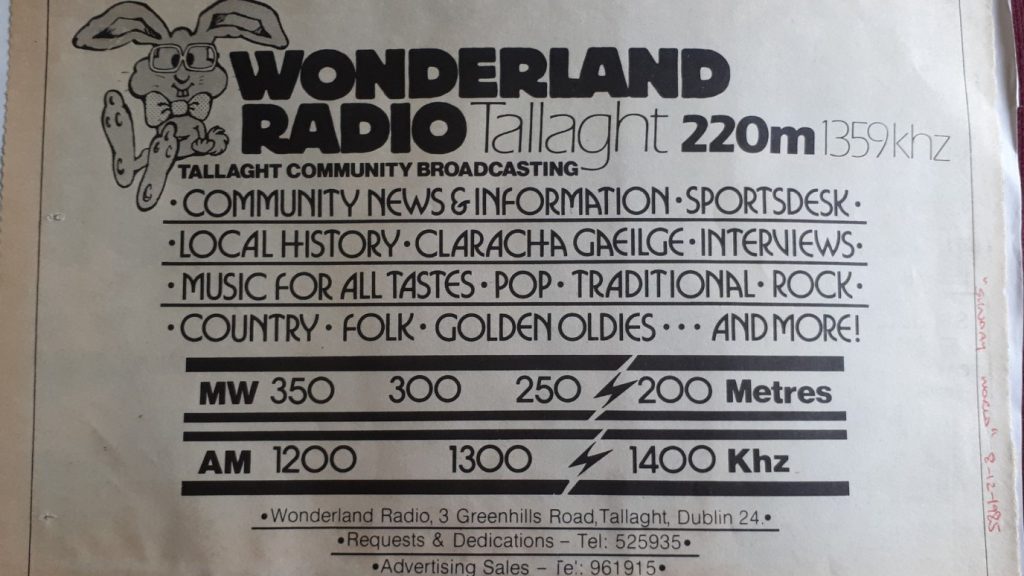 This recording from 1206-1252 on the 11th of December 1985 features the American-sounding presenter John Gummin (possibly an on-air name) with a mixed contemporary and 1960s music style. The recording is from the Skywave Tapes Collection. Skywave Radio International broadcast a shortwave station in the 1980s from Baldoyle in northeast Dublin.