Podcast: Play in new window | Download

Crystal City Sound was one of the 1980s pirates broadcasting from Waterford city. It came on air in October 1985, emerging from the ashes of Suirside Radio which had been on air since February 1979. Crystal City stayed on the same frequency as before, 1332 kHz. The station is listed on AM and FM in Anoraks Ireland reports from 1986 and 1987 but by April 1988 the name had changed to NCR. Crystal City saw itself as offering a broader range of programmes and more specialist music shows than the other major Waterford stations, WLR and ABC. Unusually for the commercial Irish pirates of the time the station was managed by two women, Gracie Sheehan and Sandra Penkert.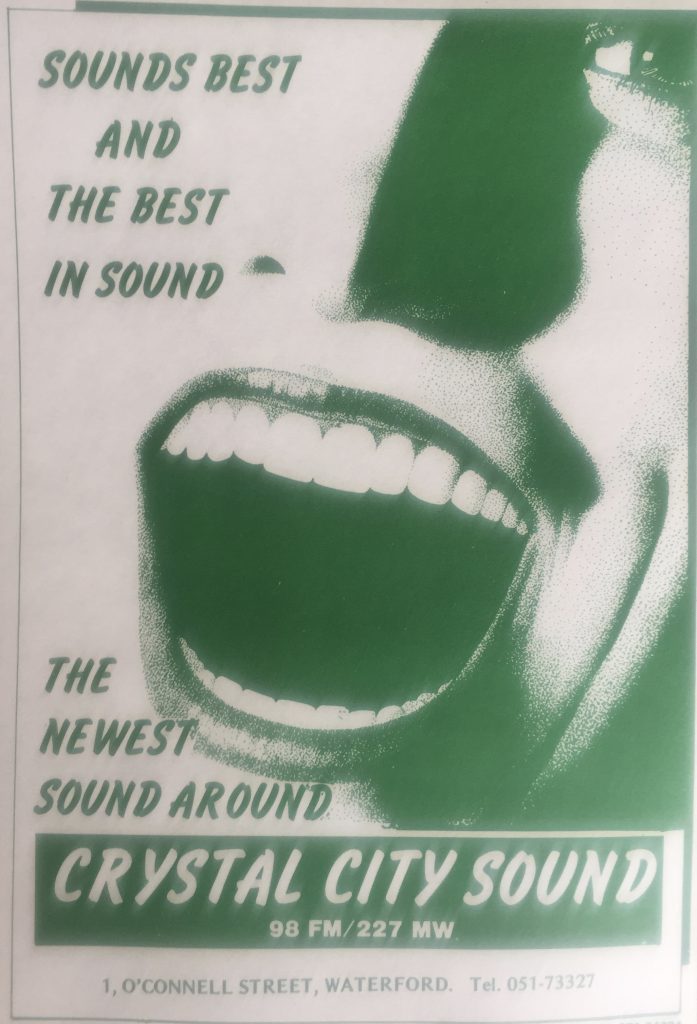 This recording was made from 97 FM on the 6th of December 1985 from 7.07pm. The presenter is Joe Patricks who told us that he got touch in touch with Crystal City Sound after being invited to a wedding in Waterford. He then came to Ireland on the boat from Liverpool and did a few shows in Waterford before returning to the pirate station KFM in Stockport in Manchester. See also DX Archive for more audio and here for an interview about the background to Suirside Radio. This recording is from the Skywave Tapes Collection. Skywave Radio International broadcast a shortwave station in the 1980s from Baldoyle in northeast Dublin.