Podcast: Play in new window | Download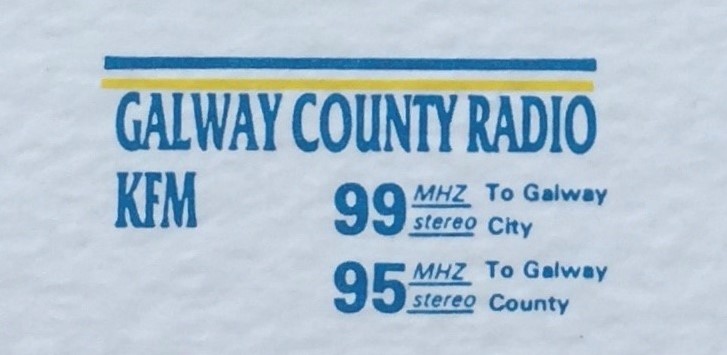 KFM, also known as Galway County Radio, broadcast from 1986 to 1988 from a village west of Galway before moving into the city itself. It was set up by Shane Martin and John Browne in November 1986 and broadcast initially on 99 FM for 12 and a half hours a day, from 7.30am to 8.00pm. The transmitter site was over 130 metres above sea level in Moycullen, a village 12 kilometres west of Galway, and this gave it a large coverage area. An entry from KFM in the Anoraks UK Weekly Report of February the 1st 1987 claimed that the station was covering an 80-kilometre radius and that it would soon be extended to specialist programming and community information. An AM channel was also promised although this never materialised.
By June 1987, KFM was broadcasting 24 hours a day and claiming to cover both Galway City and Co. Galway, including Connemara. The station told Weekly Report that it was aimed at the 20-50 audience and had a minimum of 15 percent programming in Irish and English, reflecting the fact that part of the Connemara is a Gaeltacht area. KFM also produced a bilingual leaflet, in which it announced its intention to seek a licence.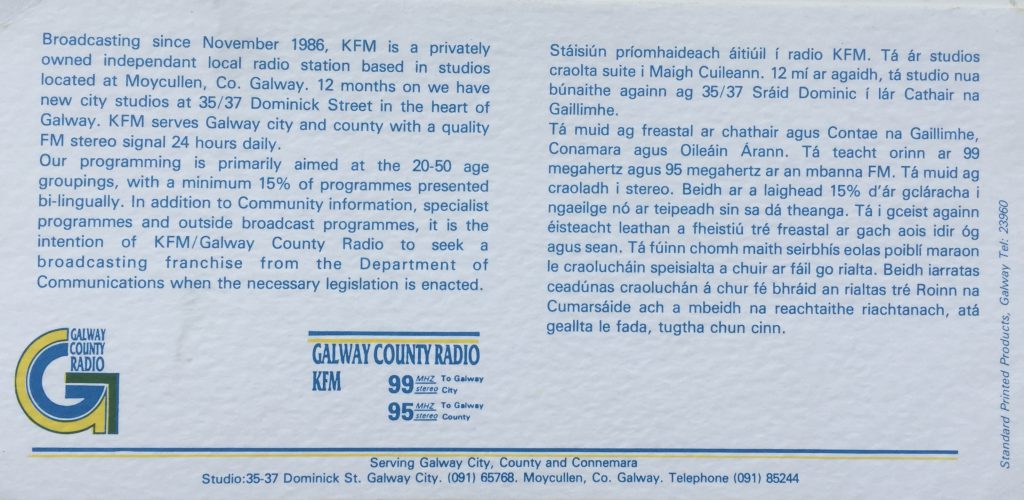 At this stage KFM was on 95, 99 and 99.3 FM and was reported to be listenable as far east as Ballinasloe. There were also reception reports from as far south as Ennis in Co. Clare. In November 1987, KFM moved into Galway City, adding to the competition between the pirates there. Coast 103 were the most successful city station at the time but in early 1988 the Tuam station County Sound would also move into Galway. Like most other stations, KFM closed down on the 31st of December 1988.
This recording of KFM was made from 96 FM on the 24th of September 1988 from 2222-2310 and features Shane Keating on air. There are requests for 'madly in love' couples and a mixture of pop music and oldies. Keating was clearly a bit of an anorak: he mentions listening to RTÉ Radio 2 on AM in Birmingham and promises a new programme for DXers, with a special focus on shortwave. We thank Ian Biggar for the donation. This was originally recorded by John Breslin in Co. Clare and being outside the core coverage area, audio quality is fair. Thanks also to Shane Martin for further information.