Podcast: Play in new window | Download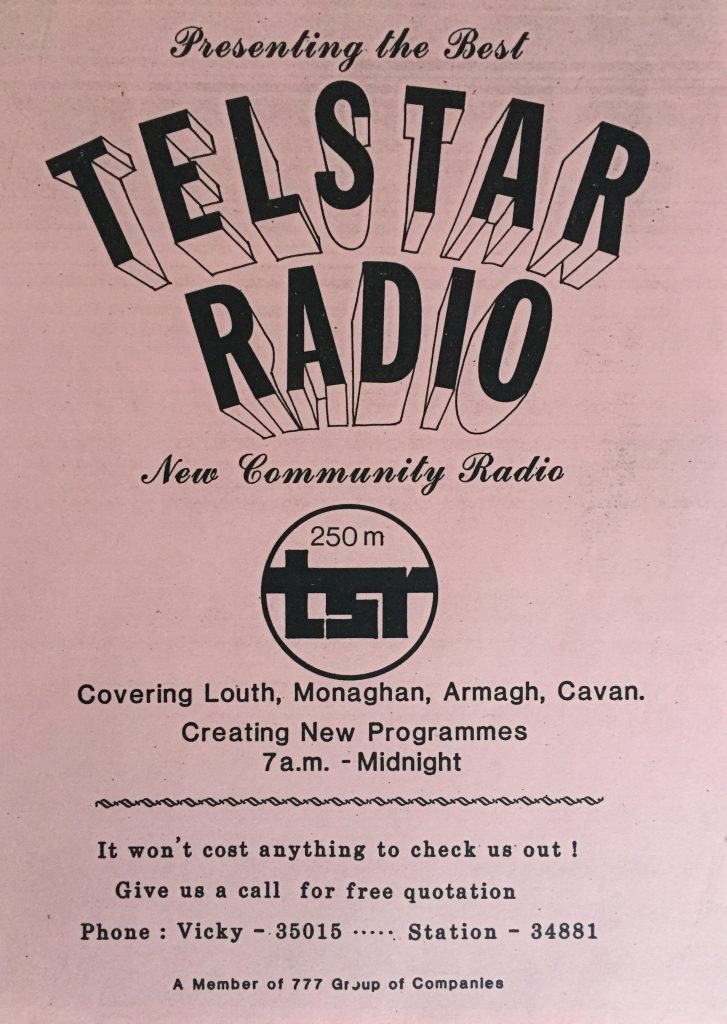 Today we bring you the history of Telstar Community Radio from the Dundalk area. Thanks to Ian Biggar for the text, and to Eddie Caffrey and John Gartlan for additional information.
After the sudden closure of North East Radio (NER), it is not surprising that another radio station was being planned in Dundalk. The station was pretty much ready by mid-September 1980, although due to circumstances did not come on air until 1st November. Telstar Radio began daily transmissions announcing 250 metres, which was an actual frequency of 1197 kHz. Programmes were broadcast from 0700-0000 with several of the full-time staff of seven coming from NER. The station broadcast seven daily news bulletins, including a late round-up at 2330. The music featured was varied including pop with a fair smattering of country. There were specialist programmes in the evening covering genres like rock and traditional.
The station was located above The Wine Tavern on Park Street where two studios were located. The station's first transmitter was a 500-watt unit built by Eddie Caffrey. This, along with a 100-foot tower, was located on the Blackrock Road. Coverage was stated as ranging from Drogheda to Newry, taking in towns such as Carrickmacross, Ardee and Armagh City although the range was compromised by the presence of BBC Radio 3 on 1197 kHz from Enniskillen. Later Telstar's transmitter was replaced by a commercial Eddystone 1kW unit.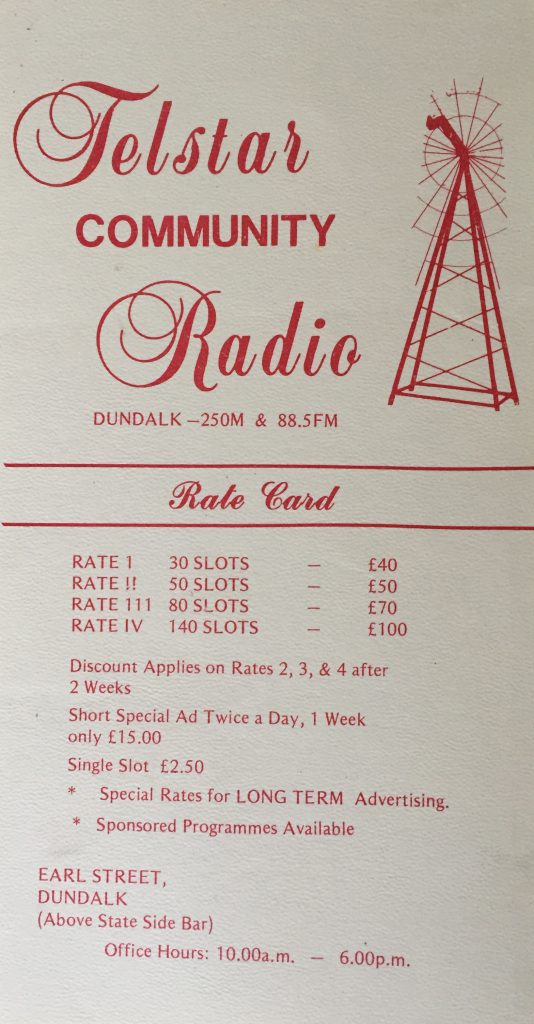 Transmissions continued with a 50-watt FM transmitter added on 88.5 MHz and Telstar built a good following, even luring the well-known Ray Stone away from Radio Carousel. Ray went on to take up the position of station manager.
However, Telstar Radio was delivered a blow just before Christmas 1981 when it was issued with an order to close by Dundalk Urban Council. The main problem was the lack of planning permission for the 100-foot mast on the Blackrock Road. The station had also moved its studios to this location earlier in the year.
Ray Stone told a local newspaper that 19 full- and part-time staff would be out of work. It may have seemed that the station was finished, but with sheer determination they returned to the air in February 1982, now with studios located above the Brake Pub in Blackrock near Dundalk. A new AM tower was erected on land on the Ardee Road between Dundalk and Knockbridge.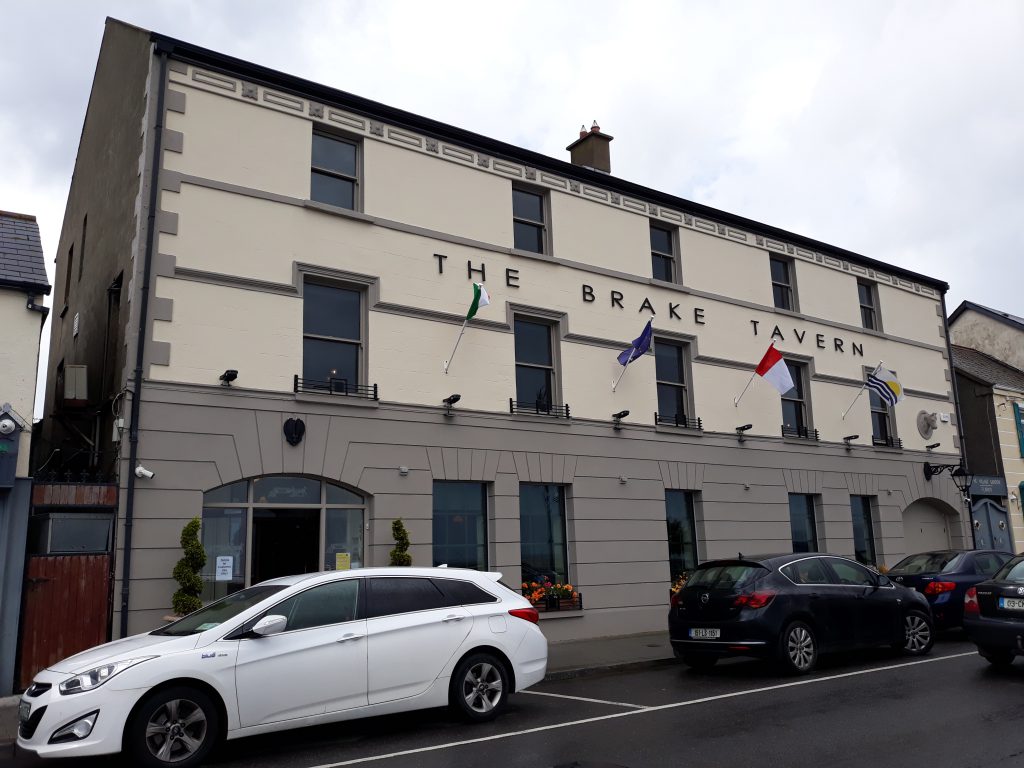 The station was back to a regular service and regaining its listener base. However, in early 1986 it became known that Telstar was for sale. A buyer was found and by May 1st the sale was complete and the station moved back into Dundalk town to purpose-built studios on Earl Street. Staff like Ray Stone and Alec Fennell remained with the station. Around this time, Anoraks UK monitored the station for a day, but unfortunately described the programming as bland. In August 1987, Telstar appeared on a second medium wave frequency of 1170 kHz from a site in Castlebellingham. This was short-lived as the coverage was not great and by the end of September the transmitter had been switched off.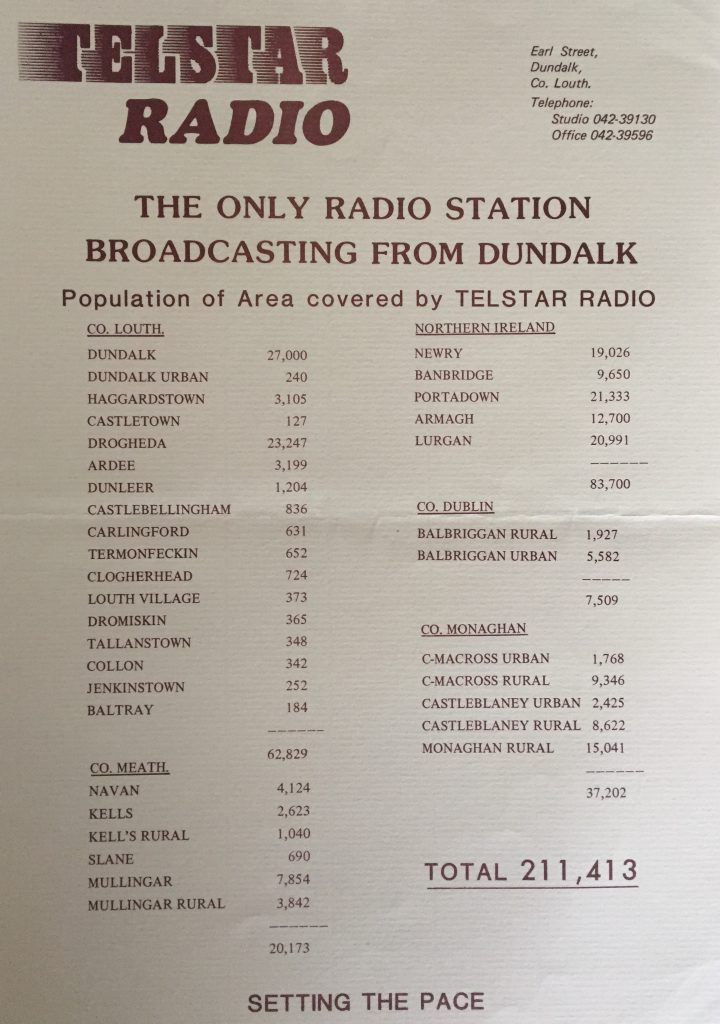 In April 1987 a new FM frequency of 89.8 MHz was tried with a high-powered FM transmitter running 150 watts. However, interference was caused in the local area meaning the rig had to be switched off and did not return. The link transmitter to the AM site was moved from 88.5 to 88.3 as the former channel suffered interference from an RTE transmitter on Three Rock Mountain. Telstar continued broadcasting right through until an emotional closedown at 1pm on Saturday 31st December 1988.
Above you can hear the Telstar Alfasound jingles package from January 1987. We thank John Gartlan for sharing this. The two recordings below are from the early and final days of Telstar and are courtesy of Ian Biggar. The first is from 1350-1448 on 13th August 1981 and features Mark Sommers followed by Shane Mullen. The second is from 0915-1230 on 17th December 1988 and features Eamonn Duffy followed by the late Alec Evans (Fennell).