Podcast: Play in new window | Download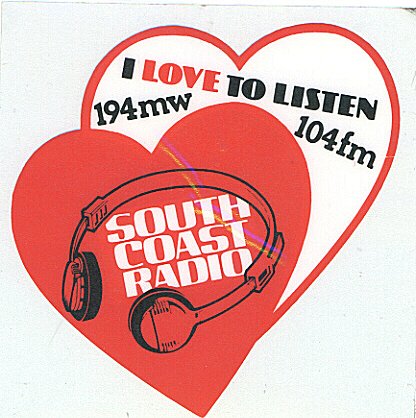 We are grateful to Ken O'Sullivan for his donation of this recording from the final days of the first incarnation of South Coast Radio in Cork.
The first South Coast began in 1982 and broadcast from studios above Henchy's pub in St. Luke's, Cork only to close on Friday 13th July 1984. This is a recording from the previous Sunday, 8th July. The station was revived temporarily in studios on North Main Street shortly afterwards but this was mostly a rebranding of another station and didn't last long. There was a third generation when the station known as WBEN which broadcast from Cook Street changed its name to South Coast in 1987. They used some of the original equipment (record decks, cart machines and desk) and kept the name until closedown in December 1988. This was the final incarnation of South Coast Radio.
The disc jockey on this recording is Ken O'Sullivan under his pirate name Ken Regis with jingles and stings made by the late Keith York. Tony Allan and Rob Allen (still with Cork's 96FM) provided voiceovers for the ads and promos. South Coast used 1557 kHz AM (announcing 194 metres), also trying 1566 for a time, and the FM frequency was 104 MHz. You can listen to jingles from South Coast Radio here and WBEN here.