Podcast: Play in new window | Download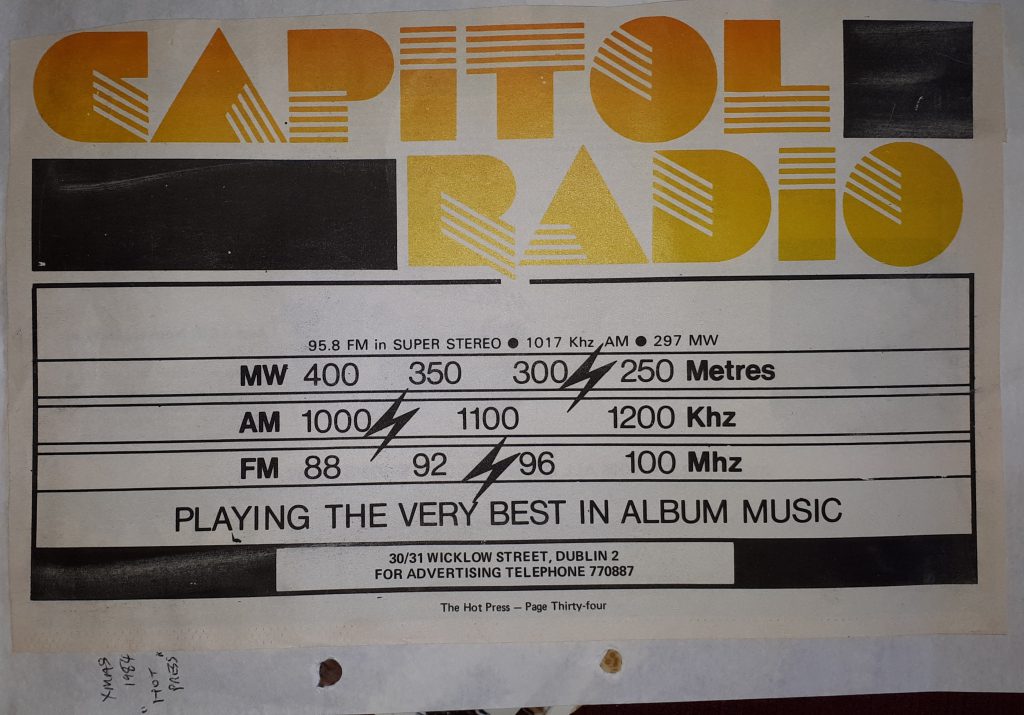 Capital or Capitol Radio was a common name for Irish pirates in the late 1970s and 1980s but the Dublin station specialising first in album and later in indie music was one of the best known. On air from 1983 to the end of 1988 it went through a number of format changes, including launching a night-time specialist sister station Nitesky 96 on 1st July 1986. From then on Capitol-Nitesky established a reputation as a leading promoter of the lively Dublin alternative and indie music scene. It also ran the 'Alternative Night' every Thursday at McGonagle's nightclub on South Anne Street.
This recording was made from 1035 kHz AM from 1335-1420 on 28th April 1984. This was the period when Capitol was marketing itself as an 'album station' but in fact a variety of styles can be heard. The presenter is Dave Kelly who worked previously in ARD and KELO and would go on to the super-pirate Q102 after its launch in 1985. News is read by Miriam Fitzsimons and one of Capitol's owners, Stephen Ryan, can be heard voicing the Sunday World ad.
This recording is from the Skywave Tapes Collection. Skywave Radio International broadcast a shortwave station in the 1980s from Baldoyle in northeast Dublin.