Podcast: Play in new window | Download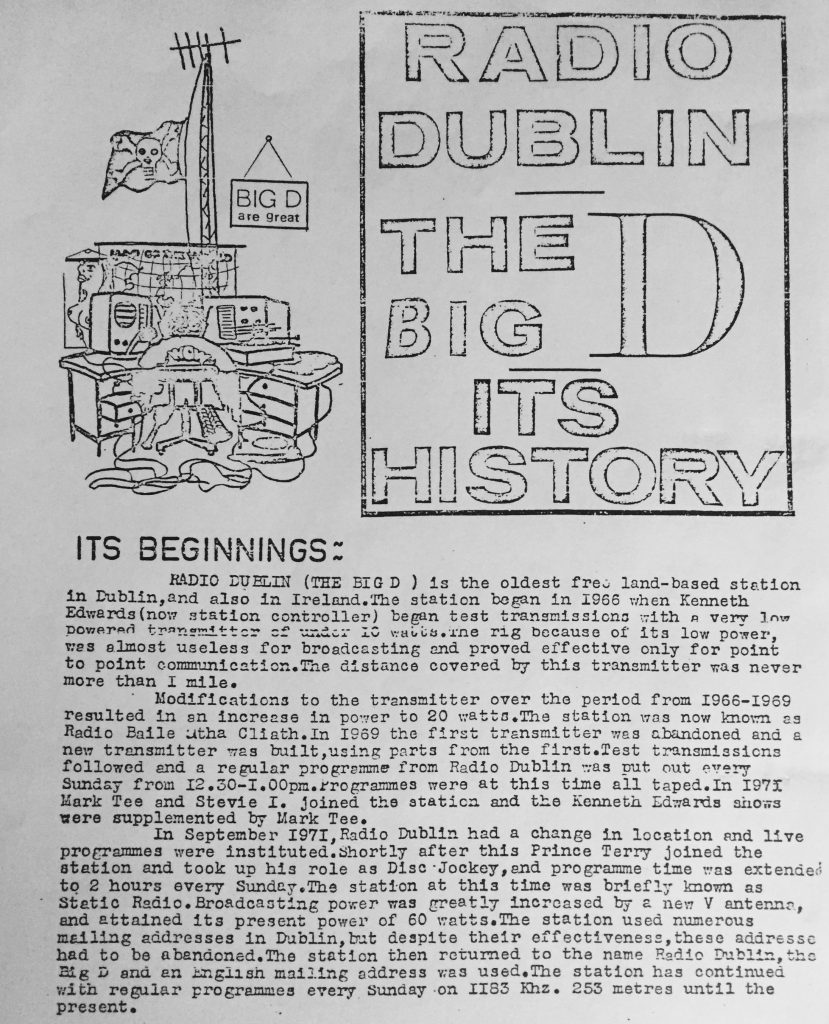 Radio Dublin or 'Radio Baile Átha Cliath' started as a technical point to point experiment by Ken Sheehan (Kenneth Edwards) in 1966 from his home in Drimnigh in Dublin. At about 10 watts, power was too low to travel further than about a mile but over the next three years, the transmitter was modified and power doubled to 20 watts. A new transmitter was installed in 1969 and regular taped music programmes were broadcast, normally on Sunday afternoons. The above information sheet from 1972 gives a flavour of the early history of the station. It's interesting to see 'Big D' being used, years before the split that led to the breakaway station of that name.
Our first recording above of the early days is undated but may be from 1969. It features Radio Baile Átha Cliath on its early 217 metre wavelength. We're not certain who the DJ is, nor was Ken Sheehan when he heard the recording. The second recording is of Ken Sheehan himself and although again undated, is probably from 1971. By now Radio Dublin was the station name and the wavelength had changed to the well-known 253 metres. The address given was that of the Brighton Independent Radio Movement in England and was used by most of the Irish pirates of the period. There is a short taped insert from 'Mark Welby' who might be Mark T. Story, later to be very involved in the early pirate scene, and a home-made sung jingle. This is pirate gold at its best!
These unique recordings were supplied by Roger Lloyd (Prince Terry) who was an integral part of the pioneering days of Radio Dublin. Thanks to Ian Biggar for the research and for sharing the recordings with us. You can hear an interview with Ken Sheehan here.