Podcast: Play in new window | Download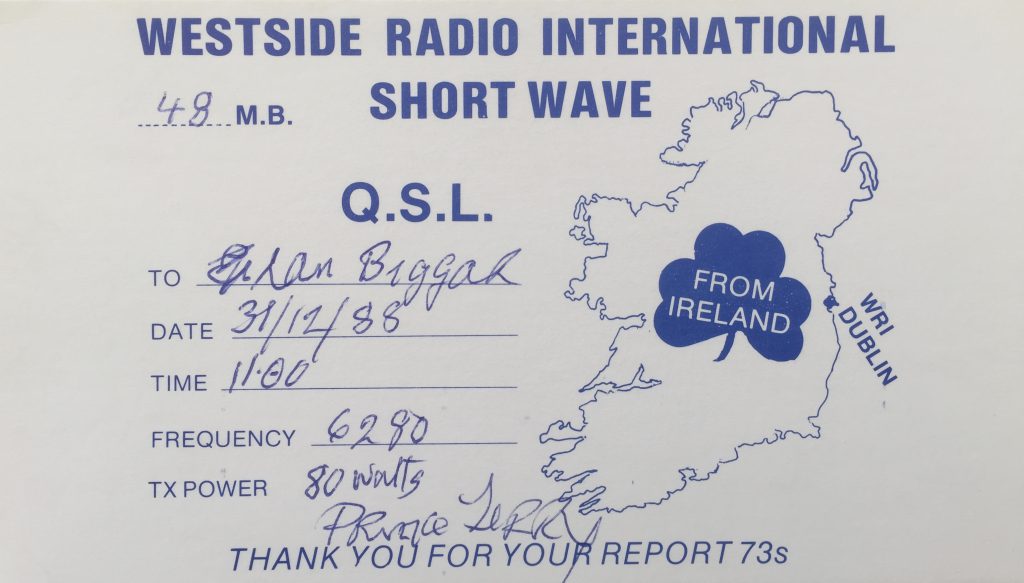 This is a recording of the closedown of the long-running shortwave pirate Westside Radio International on December 31st 1988. Westside was set up by the late Dr Don (Don Moore) in 1975 and broadcast on Sunday mornings before Radio Dublin came on the air. It was taken over by Prince Terry (Roger Lloyd) in 1977 and remained a stalwart on the 49-metre band every Sunday for the following eleven years. Westside embodied the pirate spirit and was popular with anoraks because of its regular updates about radio in Ireland and abroad.
This airchecked recording was made from 6280 kHz between 1200 and 1348 on New Year's Eve. Prince Terry and Gary Lewis present music and discuss the radio scene as the new legal regime was about to come into effect. There are hints that Westside may return in 1989 and in fact the station was heard again under various guises in 1989 and continued to broadcast as Ozone Radio for many subsequent years.
Reception is poor and is of DX standard in places but but this gives a sense of how many shortwave listeners experienced the closedown of Westside Radio International. We thank John Breslin for his donation.