Podcast: Play in new window | Download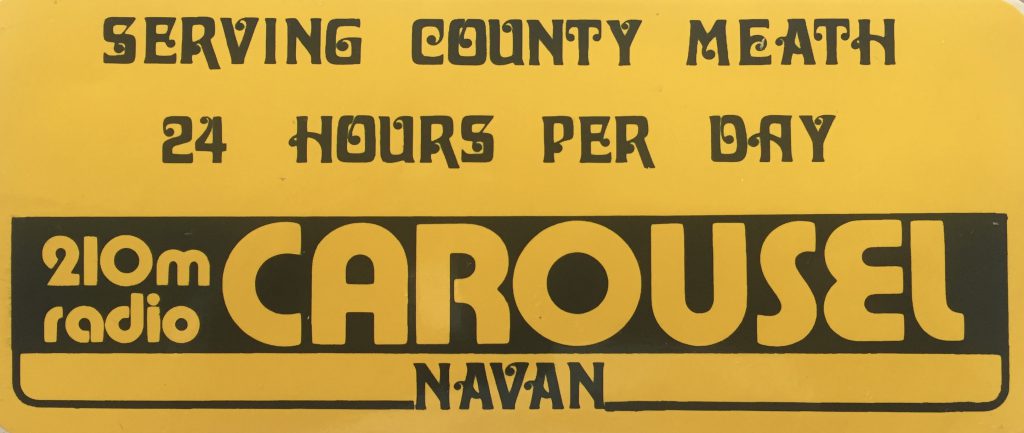 This is an aircheck of a full day's broadcasting on Radio Carousel Navan on the 28th of April 1983. The station was one of four in the Radio Carousel network in Counties Louth and Meath and along the border which by 1982 was claiming to cover 30% of Ireland from Belfast to north Dublin. The recording begins at 8am and includes presenters Kieran Murray (who also does news), Tina Anderson, station boss Hugh Hardy on a relay from Dundalk, Mike Ahern (aka Richard McCullen), Robbie Byrne and Nick Butler. The studio was situated in a glass booth in the middle of Navan shopping centre, showing that the days of pirates hidden in sheds and attics were over.
Carousel began broadcasting from Dundalk on the 19th of May 1978 and gradually expanded throughout the region. A 1982 advertising brochure lists four stations in Dundalk (265 metres), Drogheda (215 metres), Navan (210 metres) and Newry (212 metres). There was also a short-lived station in Castleblayney, Co. Monaghan. By April 1988 the Carousel network was being wound up by Hugh Hardy who moved into video production and promotion of live artists. Radio Carousel Navan was the last station on air, closing in June 1988. Hear a panel discussion on the Louth pirates here and the memories of former Carousel broadcaster Ian Biggar here.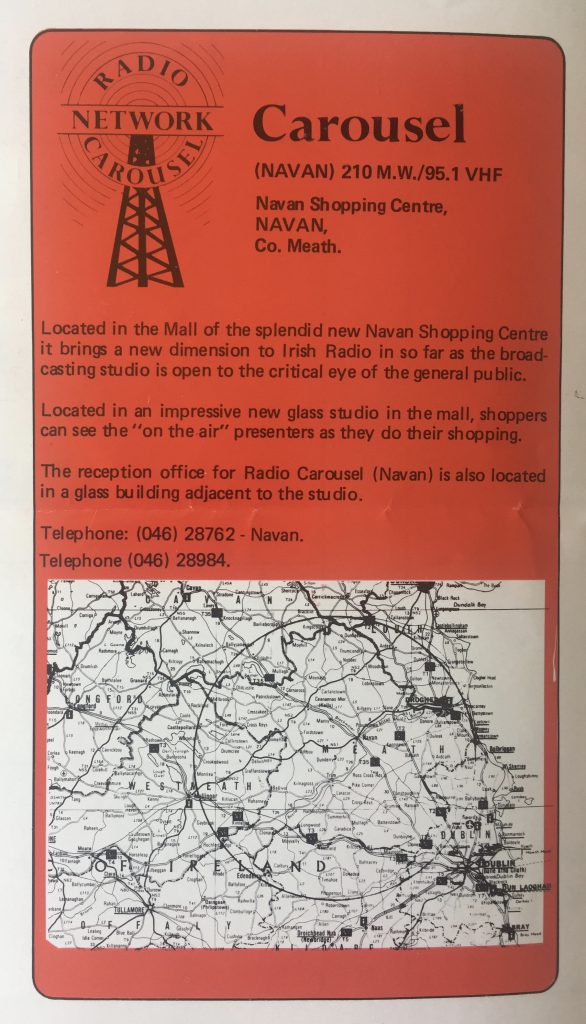 Radio Carousel Navan announced 210 metres but in fact broadcast on 1386 kHz as well as 95.1 FM. This recording is from the Skywave Tapes Collection. Skywave Radio International broadcast a shortwave station in the 1980s from Baldoyle in northeast Dublin.