Podcast: Play in new window | Download

Wicklow Community Radio (WCR) began broadcasting in the second half of 1982 on 1512 kHz AM (198 metres). It emerged from temporary festival stations set up in Wicklow Town, the first of which was by RTÉ in 1980. As happened in towns and villages across the country, the RTÉ community radio experiment spawned local pirates, and Wicklow was no exception.
In the summer of 1981, the Community Broadcasting Co-operative (CBC), which would run pop-up stations around Dublin throughout the decade, set up Wicklow Regatta Radio to coincide with a local festival. In a 1984 documentary, manager of WCR Leo Doyle said that the CBC station was more professional and popular than the scripted and controlled RTÉ experiment. As a result, he decided to set up a full-time station with two other locals.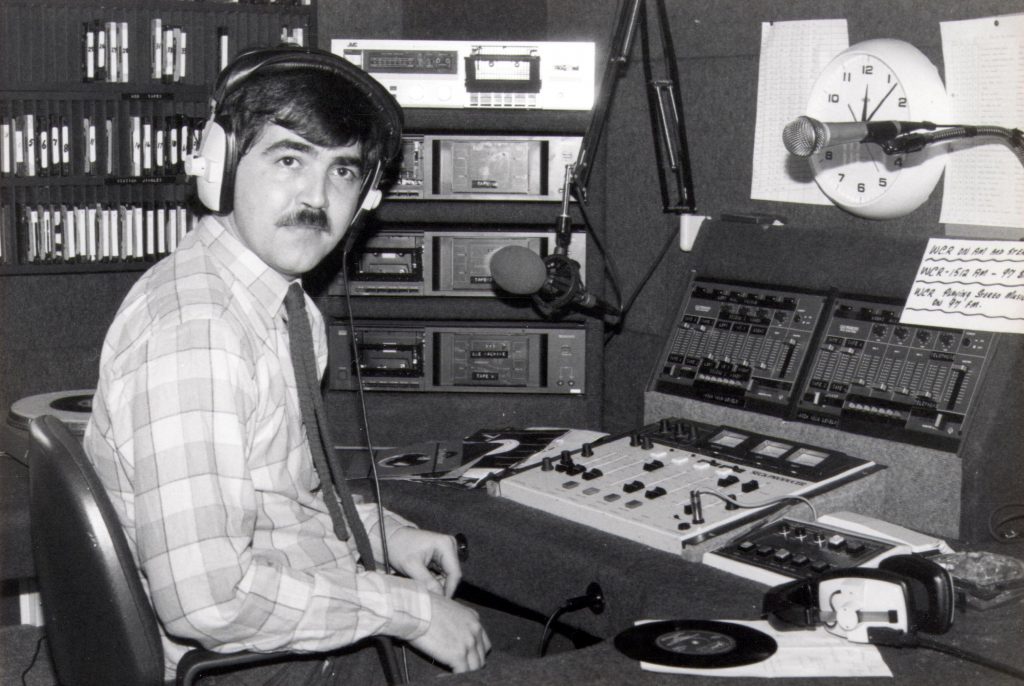 WCR was originally aimed at Wicklow Town and surrounding areas and was mostly a voluntary operation with a strong community focus. There was a breakfast show with various slots, music and chat and a mid-morning programme aimed at housewives featuring recipes and aerobics sessions. The station had extensive local news and sports coverage, specialist jazz, country, traditional and ballads shows and 'The Young Ones', researched, presented and produced by children with an average age of 12. Among the DJs were Andy Scott, later known as Scott Williams, who went on to become a big name on Dublin radio.  
WCR was relaunched as WLCB (Wicklow Local Community Broadcasting) in the summer of 1985 with a larger coverage area and more commercial outlook. A 1.2 kW transmitter was installed on 1602 kHz and FM coverage improved due to a good hilltop site near Wicklow Town. WLCB changed its name again to Viking 105 in 1987 and continued until the end of the 1988.
This recording is from 1118-1203 on 10th April 1985 and features Mick Duggan followed by Jackie Scott on news. Sound quality is fair at best with some electrical interference and it seems the recording was made in Dublin outside the core coverage area. The recording is from the Skywave Tapes Collection. Skywave Radio International was a shortwave station broadcasting from Baldoyle in northeast Dublin.