Podcast: Play in new window | Download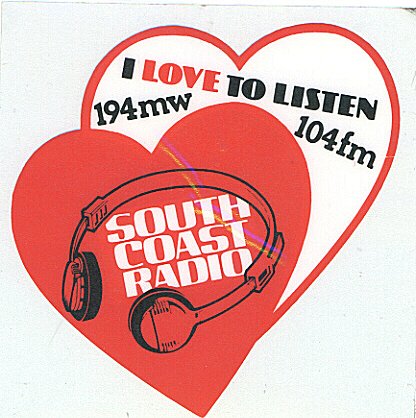 This is a recording from the original South Coast Radio (1982-1984), one of the most popular Cork pirates of the early 1980s, broadcasting on 1557 kHz (announced as 194 metres) and 104 FM. It runs from 1450-1600 on the 30th of October 1983, a Sunday, and features an outside broadcast from Dan Lowrey's pub as part of the Cork Jazz Festival. In studio is former Radio Caroline DJ Johnny Lewis and another offshore veteran Keith York (RIP) is on the link side from the pub along with Peter O'Neill. News is read by Andrew Hewkin but is delayed due to the OB. Audio quality from the pub is poor in places but the fact that it took place at all was evidence of South Coast's desire to push the boundaries of radio at the time. Lewis and York joke about the pub closing for 'holy hour' on Sunday afternoon and chat to the musicians. Barrie and Ruth Johnson of Anoraks UK happen to be visiting the station and get a brief mention on air.
There's also an announcement advising listeners that any interference to transmission is not South Coast's fault but due to jamming from the RTÉ transmitter site at Spur Hill. 1983 was a turbulent year for the pirates between raids by the authorities and jamming by RTÉ. South Coast shut down voluntarily following the raids on Sunshine Radio and Radio Nova on the 18th and 19th of May 1983 but returned soon afterwards on the 23rd of May.
This recording is from the Leon Tipler Tapes Collection, donated to us by Steve England.