Podcast: Play in new window | Download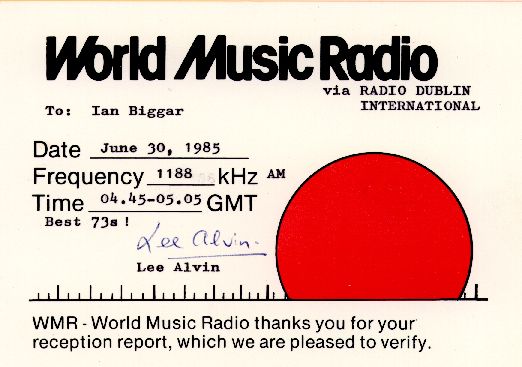 Radio Dublin regularly carried programming from the former Dutch pirate station World Music Radio (WMR). WMR broadcast without a licence from 1967 until 1973 when it was raided by the Dutch authorities. In the 1970s and 1980s, its programmes were carried by stations in Andorra, Italy, France and Radio Dublin in Ireland. WMR has been revived on a number of occasions over the past 25 years and has broadcast from Denmark on shortwave. It currently operates an AM licence in Copenhagen. Read more about the station history here.
This relay of WMR via Radio Dublin is from 1985 and features station pioneer Lee Alvin followed by Danish DJ Oscar Hansson with European hits in various languages. A mailing address in Amsterdam is given and there are adverts for the World Radio and Television Handbook. Radio Dublin is mentioned as one of the station's partners. A break in audio about 25 minutes into the recording is possibly due to the change-over of a cassette.
The tape was made from 1200-1247 on 9th June 1985 from 1188 kHz AM and is from the Skywave Tapes Collection. Radio Skywave International was a 1980s shortwave station broadcasting from Baldoyle in northeast Dublin.