Podcast: Play in new window | Download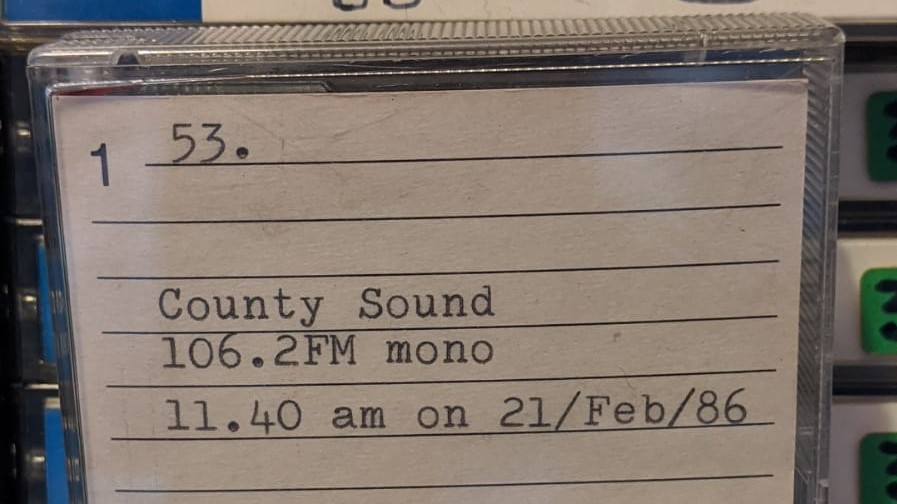 We have featured the popular Galway station, County Sound (1987-1988) elsewhere in this archive, but Dublin also had a County Sound. This seems to have been a short-lived operation in 1986, broadcasting from the Rathgar/Churchtown areas of south Dublin. The station is first listed on 105.7 FM in the Anoraks UK Weekly Report on the 23rd of February 1986, shortly after this recording was made. An Anoraks Ireland list from April 1986 lists County Sound as a full-time station (0700-0300) and gives an address in Churchtown. The same month, Anoraks UK logged the station on 104.7 and then 104.9 and gave an address in Rathgar. It also published a full daily schedule which included Ray Stephens, Stephen O'Rourke, Paul Smith, Mike Evans, Derek Hennessy and John Taylor. Whether these names were real or assumed, we do not know. County Sound announced 1503 kHz AM also but this was not confirmed. The station moved around the top end of the FM band for a few months from February 1986 but there are no references to it in logs from July onwards. Although full-time for a period and using a professional jingle package, it seems to have been one of the many short-lived hobby stations increasingly common on FM at the time.
This recording is from 106.2 FM on the 21st of February 1986 from 1140-1225 and features Dan Malone (whose voice hadn't yet broken!) followed by Brendan Dowling (who sounds a bit older). It is from the Skywave Tapes Collection. Skywave Radio International broadcast a shortwave station in the 1980s from Baldoyle in northeast Dublin.