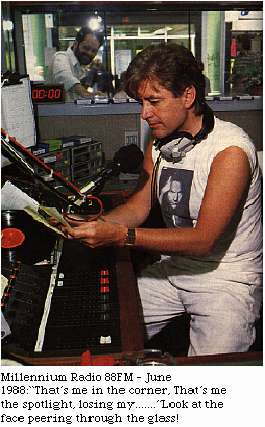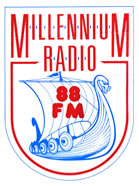 Meanwhile, in 1988, Dublin City was celebrating the fact that it was 1,000 years old. Part of the city's celebrations included a 'special interest' radio station called Millennium Radio. This was operated by RTE [Ireland's National broadcaster] and broadcast general entertainment programming of interest to Dubliners. Local programmes went out from 8am to 8pm and it relayed 2FM for the remainder. The frequency used? 88FM of course - to match the year 1988! The studios were based in the GPO Arcade, off Dublin's O'Connell Street [main street] In March 1988 I became "legal" and joined the staff of RTE's Millennium Radio 88FM. This involved presenting reports for programmes and presenting the evening Sports News, plus taking requests and enquiries from the Public office at the Millennium Information Desk, across from the studio.
After Millennium Radio closed in May 1989, it was August that year that I joined Ireland's very first legal commercial radio station: Capital Radio 104.4FM. I am forever grateful to Martin Block for offering me the chance to work on this historic Irish radio station. Capital Radio was initially based on the roof car park (literally) of the Saint Stephen's Green Shopping Centre in four portacabins. Capital Radio later moved to new permanent studios in The Ballast Office, Aston Quay, Dublin [City Centre]. The format was "Hot Hits" and it commanded the lion's share of the Dublin City listenership, as it was the only alternative to 2FM. My job initially included presenting the daily sports news and reports for the "Newsbeat" current affairs programme.
I Stayed 8 years with Capital Radio, which then changed name to Rock 104 and then changed name again to FM104. I did everything from sports news, traffic news, reports, on-street promotions, studio and sound editing. When the station became Rock 104, I became Stereo Steve. Eventually, after 6 years with the company, in 1995, I was given my own show. I remained with FM 104 until 1997.
The Stereo Steve Overnight Radio Show was born!