Podcast: Play in new window | Download
World Music Radio started as a land-based pirate in the north of the Netherlands in the mid 1960s. It continued broadcasting most Sundays on shortwave until it was raided in August 1973. Our colleague Ian Biggar of DX Archive remembers listening to the station: 'I missed the original WMR, but first heard it in 1976 on 6230 kHz legally, via the transmitters of Radio Andorra. It tried to be a commercial station on shortwave, but the sponsors were just not there and programmes became sporadic as funds run out. There were religious programmes on shortwave, but regular advertisers just did not seem interested in a worldwide audience'.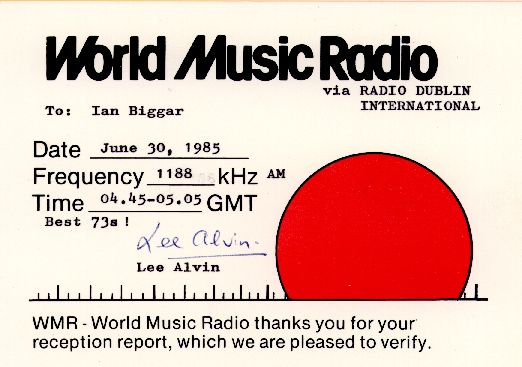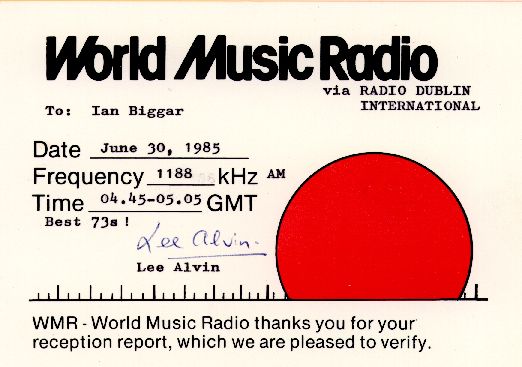 Ian describes how WMR was broadcast on Radio Dublin: 'Eventually they tried to get stations to pay for their programming, but I doubt if this brought in much cash either. I am not sure what the arrangement was with Radio Dublin, but doubt if Eamon Cooke paid for the programmes. Originally the arrangement was that WMR was aired early Sunday mornings on shortwave, but programmes were slotted in on other occasions'.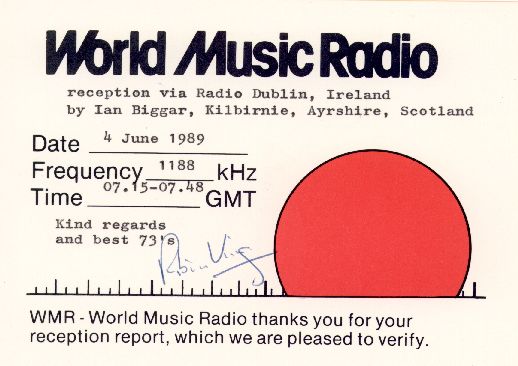 As well as Andorra and Ireland, over the years WMR was heard via transmitters in Italy, South Africa and nowadays in Denmark. You can learn more here. Ian heard WMR many times on both shortwave and medium wave via Radio Dublin and as the QSLs show, both before and after the 1988 act. The recording features DJ Lee Alvin. This professional broadcaster was very much an influence for some young would-be broadcasters in the 1970s with his programmes on WMR as well as Radio Kaleidoscope and Radio Jackie in London.
This recording was made from 1100-1145 on the 7th of February 1984 from Radio Dublin's Channel 2 on 98.7 FM. It is from the Skywave Tapes Collection. Skywave Radio International broadcast a shortwave station in the 1980s from Baldoyle in northeast Dublin.