Podcast: Play in new window | Download

Radio North from Co. Donegal is one of Ireland' longest-running pirate stations, operating under various guises more or less continuously from 1986 to the current day. It began broadcasting from Carndonagh on 18th November 1986 on 1386 kHz, later moving to 1404. Logs from mid-1987 show that it had moved to the clearer channel of 846 kHz, which gave it better coverage over a wider area. Radio North closed down along with the vast majority of the other stations on 31st December 1988 but its frequencies were not silent for long.
The station returned on tape on 5th January 1989 and resumed live programmes the following day on 97.9 FM and 846 AM putting out its usually good signal into Britain, according to the Anoraks UK Weekly Report. Promos were aired for raising funds for the station's court case against the 1988 legislation with £30,000 was required, £10,000 of which would be provided by Radio North. Adverts from both sides of the border were plentiful but an address in Ballymoney in Co. Antrim was used for advertising in order to avoid the provisions of the new laws banning advertising on pirate radio. Around 21st January 1989, the station was relaunched as Northside Radio complete with new jingles, promos and studios and a move to Redcastle on the banks of Lough Foyle. The Donegal Democrat reported that a split in the Radio North camp led to the new name, with the original owner Paddy Simpson deciding to apply for the north Donegal licence.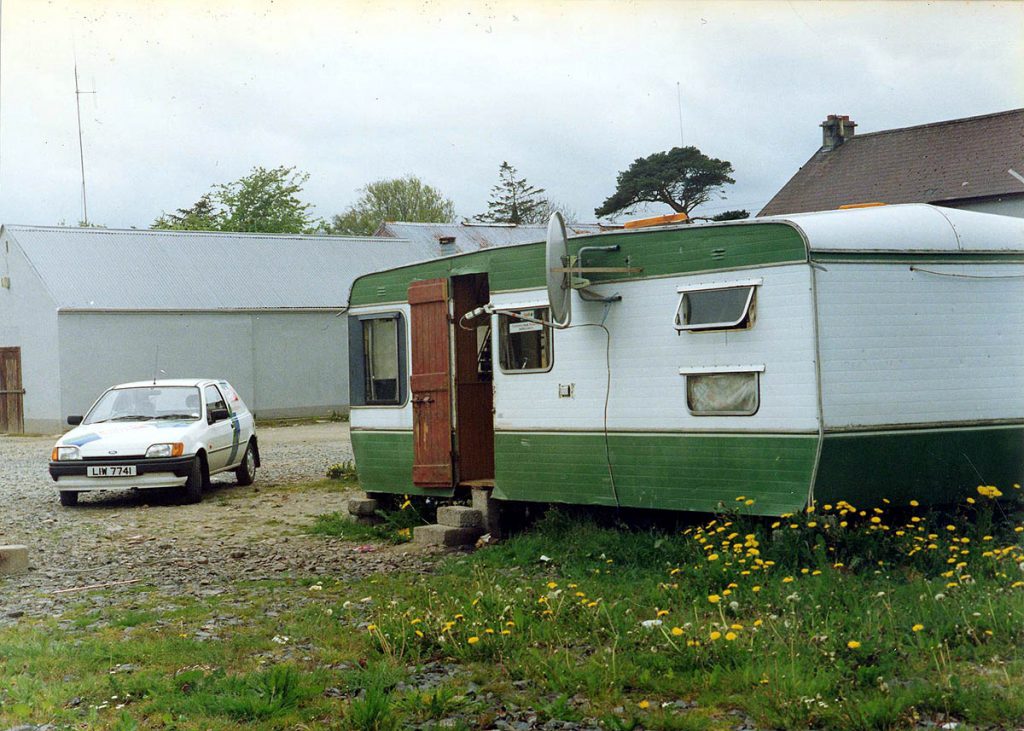 Anoraks UK reported that listenership was obviously strong, due to a large number of requests and regular promos for public appearances of DJs on both sides of the border. In March 1989, there were rumours that the station was raided and the FM transmitter confiscated but these were not confirmed. On September 4th 1989, the name reverted to Radio North again when the original owner took back control, according to Anoraks UK. DX Archive visited Radio North in May 1991, which was at that time operating from a caravan in the village of Muff right on the border with Co. Derry. A rival station, North Atlantic Radio, began broadcasting around the end of 1989 and eventually took over the Radio North name and frequency.  
Incredibly, Radio North continues to broadcast today, 35 years later, on 846 kHz from Redcastle, Co. Donegal and online via its website. The MWLIST reports that it has a power output of 3 kW and the station can indeed be heard well across the North of Ireland and into Britain. It broadcasts a mixture of live and recorded music programmes along with American evangelist recordings, presumably to generate income. Radio North is one of two Irish 'border blaster' pirates that continue to defy the laws and the odds, the other being Radio Star Country in Co. Monaghan, which began broadcasting in 1988. Both are on AM only, which may explain why they have been left alone by the authorities, but even a cursory listen to either reveals that they still have advertisers and listeners.
This recording was made from 1025-1100 on Sunday 8th January 1989, just a few days after Radio North returned to the airwaves. The music is a mixture of pop and country and DJ James is standing in for Jake. An appeal can be heard for funding for the High Court case along with adverts for businesses as far away as Co. Antrim. This recording was made in Scotland and quality is fair with electrical interference at times. We thank Ian Biggar for this donation and for assistance with research.